25th July 2021
The Summer starts this Tuesday…..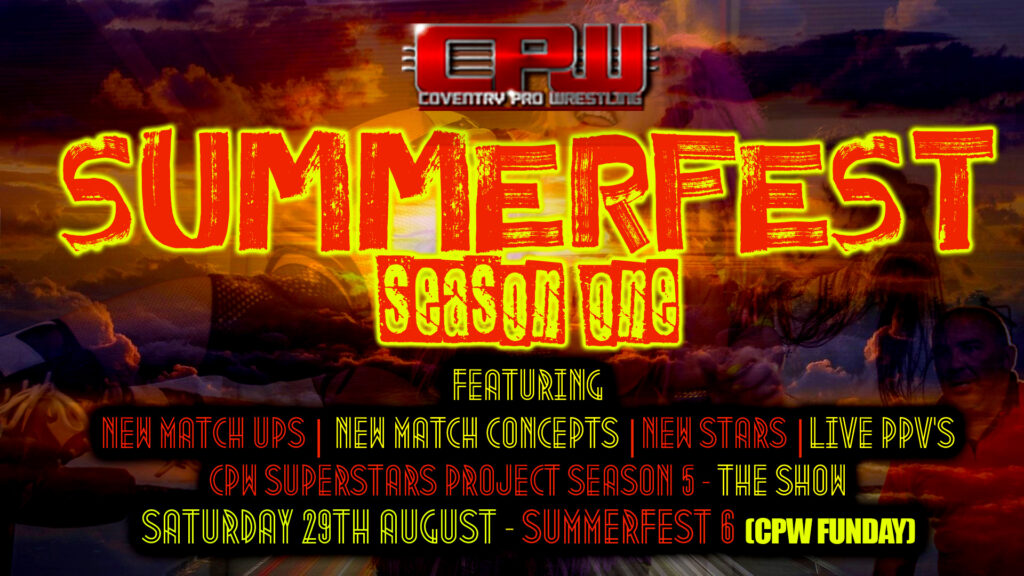 Ahead of Season 9 in September we will now enter into our first ever Summerfest Season which will begin Tuesday 27th July and will finish just before the start of Season 9!
The Summerfest Season will see new match ups, new match concepts, LIVE PPV's and the chance to see new 'outside' stars try out on our weekly Summerfest Episodes with the view of becoming a permanent CPW stars in Season 9.
The BRAND NEW CPW Wednesday VIP Club will also launch during the Summerfest Season from this August which will see a limited numbers of The CPW Galaxy being able to attend our weekly shows!!
More details will be released next week. It all kicks off tomorrow from 6pm as we release on CPW On Demand the first Episode of the Summerfest Season and it features a HUGE confrontation between the NextGen & New Blood Heavyweight Champion Niall Fairchild and Will Starr whilst other stars like Morris, Carrie, Morgan Black are all in action and you will also be able to see the CPW debut of Kent Nelson.
We can now also reveal the return of our Summerfest Fun Day which makes it's 2021 return Sunday 29th August at the Stoke Heath Community Centre and the event will include a FREE Wrestling show. More details will be released next week.