27th January 2020
WWE NXTUK star T-Bone returns to CPW Sat 1st February…….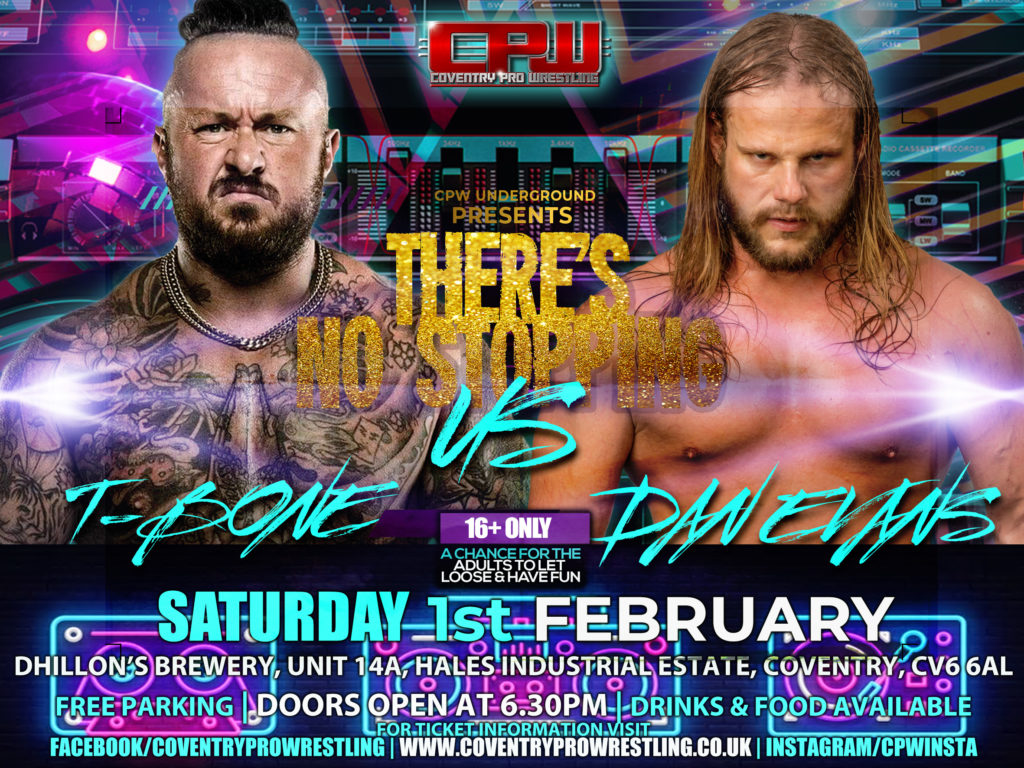 Next up we go a bit more daring with our 80's themed 16+ show CPW Underground Presents – There's No Stopping Us! LIVE Saturday 1st February from the Dhillon's Brewery in Coventry
For the first time ever in CPW we get to relive that 1980's vibe Saturday 1st February and what a show it promises to be as WWE NXTUK star T-Bone returns to CPW to resume his feud with CPW HOF Dan Evans.
We thought they were only a myth but no they are real and for one night only we will get to witness the Wrestling Mafia's Silk Brothers as Russell Hardwood & Will Starr will be competing LIVE in Tag Team Action!!
It's signed sealed and it will be delivered LIVE at CPW Underground Presents – There's No Stopping Us! as Lucia Lee and Hannah Taylor will clash one final time and this third and final instalment of their rivalry will be contested in a Ladder Match for the CPW Women's Championship!!!
Is all that not enough!?
How about then the 'Taker Of Souls' match between the Imperial Dragon and Tommbie!?
Do you still want more? Okay
The CPW Galaxy will also get to see Kevin Issac vs Morris, Iron Serb vs Mr Ace and the CPW debut of the Newcastle based CJ Parker as he competes in a monster Fatal 4 Way for the NextGen Wrestling Heavyweight Championship with current champion James Cross, Scott Oberman and Bashby!!!
The music will be 80's, the vibe will be 80's and we want to see The CPW Galaxy in their best 80's FANCY DRESS too! So get your tickets today and be part of this 16+ CPW Underground wrestling entertainment presentation.
CPW BOX OFFICE – for all booking information
www.bookwhen.com/axemanpromotions