7th September 2018
FRANKIE SUMMERS BLOG #7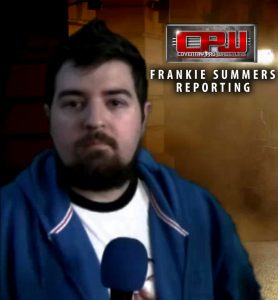 THE MORRIS SHOW
Hello again CPW Galaxy. We have a change of plan for this episode. It was supposed to be a fun day show, but this was cancelled for unforeseen circumstances. However we at CPW do not like to disappoint our fans. So we put on a very special episode of CPW live.
This was a surprise show for our dear friend and CPW fan favourite, Morris. The invited crowd packed the Performance centre, as the on hand talent, including myself, got into the ring in anticipation of Morris' arrival. When he arrived we all yelled Surprise and erupted with cheers, before Fifi, as always lead festivities as we all sang Happy Birthday. The best part was Morris had no idea what we had planned. He assumed he was helping his dad Simon move one of his bouncy castles. Even in our world of social media and connectivity secrets can still stay secret. It shows how much effort we put in for members of our CPW family. Who wouldn't want to be greeted by surprise by their family and close friends all in one place? After this, we prepared for the show. Morris had left his ring gear at him, but meantime fans were given refreshments courtesy of Simon and Katie.
Now, Dominic was away on holiday that day, Caitlyn was unavailable and Marcel is not General Manager for NextGen Wrestling anymore, so this show needed a ring announcer. Enter yours truly, on this day, 12th August 2018, I, Frankie Summers made his official CPW Debut. I realised before hand that I didn't have an entrance theme, but I thought of one and quickly told Mr Richards so he could get it set. I decided on Mr Blue Sky by ELO as it's a good well known track with good build up and fits with my personality and character quite well.
The show started and I burst through the curtain to meet the CPW Live crowd. I got a mixed response with some cheers and some silence, but that's to be expected as going out into a room of strangers is always tricky. The CPW regulars made up for this with a big loud cheer which put my worries to rest, even the kids jumped up for high fives which was the best part. I nervously got in and did a quick self intro and ran down the show. I did suffer some audio issues here and throughout the early part of the show, but I overcame this. I'm sure I'll get used to it as time goes by. I've been told to hold the mic further away and shout less. This will be taken on board for next time, so thanks for the advice everyone.
We started off the show in fine style with a singles match as Seth Skyline took on Kieran Young. Current co-tag champ vs former CPW champ. This was a classic wrestling match, a lot of back and forth between two very evenly matched guys. Seth got the advantage after showing his mean streak and pounding on Kieran for most of the match. Kieran had the crowd behind him though, fighting back with strikes, a couple of aerial moves and even getting the odd near fall. Seth fought back, hit him with his neckbreaker finish and pinned Kieran to win the match in impressive fashion. Seth didn't cheat to win which surprised me, so props to him for that.
Next was a singles match, opening with an appearance from Marcel. He came out, told us what he'd been doing since History 5, like ending his partnership with Tom Lindsay, getting a new client and telling is it was his 2 year anniversary. He tried to make me bow down to him again and sing Happy Birthday to him for his 2 year anniversary in CPW. Obviously I refused, as I always will, no matter how many times I get low blowed or choked out. Then after Dale intervened, Marcel announced Bashby, he came out and then after a slight issue, I announced his opponent, Stevie W, who came out in his new pink trunks, courtesy of Fifi.
The match began with grappling which you don't often see from Bashby as he's more of a striker. Stevie got the advantage being taller and stronger, but Bashby knowing he couldn't outwrestle Stevie took to the strikes. Bashby's own mean streak came through with savage chops and kicks, which Stevie held his own against. He was draped over the rope after Bashby's running knee in the corner, so I went to check on him. He said himself Bashby wasn't pulling any punches. Bashby has nothing to lose now he doesn't side with Bob and doesn't have a championship anymore.
It ended when Bashby got distracted and Stevie rolled him up for the pin from nowhere.
The crowd erupted with cheers and rightly so. The fans love Stevie and don't love Marcel, despite how much he thinks they do, so any result that makes him suffer is a win in my book. This lead onto the interval and fan access. The part where some of your favourite CPW stars come out for photos in the ring with fans. This time it was with Will Starr, Fifi, Stevie W, Kieran Young and CPW champion Mr Richards. But then, out of nowhere, a surprise. Morris came out which the crowd certainly enjoyed, as it was him they were there to see.
After this we got straight back into the action with the Triple Threat match, between Alex Conners, Kameron Solas and Fifi. Obviously Alex came out first, and hilariously ended up walking into the stage scaffold on his way out. He can never resist gnawing on me when he gets the chance, and that happening just made him angrier. He grabbed the mic which didn't work straight away, which he obviously claimed I sabotaged, before yelling at the crowd and me.
Then I introduced Kameron Solas, in his 2nd match here in CPW. Alex then told me he didn't want any more opponents as he felt confident he could take Kameron. I defied him and announced Fifi. Much to his displeasure. Now I got a message from Mr Conners with a rundown of this match point for point, as he said he doesn't want me to screw up what really happened. This is it, along with what happened from my side too.
After wanting nothing to do with Fifi, and refusing to fight him after a kiss was blown at him, Alex and Solas brawled, Solas getting the best of it, then Alex counters the Irish whip, and hits an impressive flying knee. Fifi then slaps Alex, throws him in the corner, hits the seat splash and then gives him the stinkface (much to the joy of the crowd). Fifi tripped Solas into Alex's crotch then started spanking and riding Solas around the ring until I caught him from behind with that patented pump handle backbreaker.
Alex takes time out to showboat, but Solas hit him from behind, goes for a whip, reversal, blocks the punch, kick to the head, then he jumped in, avoiding the clothesline and slid through Alex's legs and hit him with a calf kick. Solas picked Alex up for the Death Valley driver but blocked with the eye rake. He then shoved him into Fifi, knocking Fifi to the floor and injuring his back hard.
Fifi then called me over and told me help him to the back. I did, but shortly after he was bravely out again. Meantime Alex rolled up Solas by the tights to try to steal a win, but he kicked out. Alex cut him off with a knee and then worked him with his roughneck bites and chokes and strikes, topping it off with the 619 and the springboard knee in the corner.
Alex went outside to attack Fifi, with a ram into the ring apron and barricade outside. Fifi's back was seriously hurt this time. He called me over again and even a crowd member tried to help get Fifi up. In the end I had to tell Dale again who told me to get help from the back. As I went off for help, action continued in the ring. When Alex got back in, Solas hits him with an elbow and a boot and started to fire up, before being cut off by a huge clothesline, causing Solas to backflip. He still kicked out. Alex was in disbelief. He hit him with his knee trembler finisher. He kicked out again. Alex was incredulous.
Alex called for the finish, the Pitchfork Driver. Solas slid out, and pushed Alex off. He then hit a big spin kick and standing flip senton, Alex kicked out. He went for his beautiful corkscrew moonsault off the top buckle. Alex dodged it. Fifi caught Alex out of nowhere with the Famouser. Fifi went for Fifi Factor on Solas. Solas escaped. Alex went to hit Solas from behind. Fifi saved Solas and superkicked Alex, right in the face. Solas hit Fifi with the Death Valley driver. Alex then sneakily threw Solas out and lock Fifi in his submission called the Kentucky Family Clutch to steal the win by submission by Fifi. I had to dash back through the crowd to announce the finish after no help was available. He kept the hold locked on after the bell, wanting to punish Fifi more, until Solas saved the day, booting Alex out, and they celebrated by dancing in the ring. Solas pulling out a sweet Spinneroonie.
It wasn't the result the fans wanted and I do have egg on my face from it, but I will give credit to Alex, he showed resourcefulness and cunning I didn't expect, and he did it with no outside help at all. He is evolving, and if I've told you once, I've told you many times before. This man is dangerous.
He comes up with new moves every show it seems and everything the crowd does to get to him, he turns on them. When you chant KFC now, you're telling him you want to see his new finisher. The more you mock him the angrier and tougher he gets.
Next was a change of pace, as we have another singles match as newcomer to CPW Drake Wynter takes on the 'Chosen One' Will Starr. Will has been asking for new opponents and we've been happy to oblige. I've credited Drake before for holding his own against Danny O'Neil, but Will is a different kind of athlete. Will was confident and fired up, probably leftover from his match at NBW the night before. His chest was still red from then. They locked up quite evenly to start. Drake using his size and weight, and Will using his height.
Drake took advantage by using some roughneck tactics. Pounding and gnawing away. After a whip, Drake telegraphed a move and Will took the opening with his fantastic spinning wheel kick. Then it was pretty much all Will for the rest of the match. A flurry of moves, a back spring kick, another spinning wheel kick, a headlock takedown from the 2nd buckle, culminating in the Superstar Elbow, pinning Drake for the 3. A bit one sided, but it just shows how on fire Will has become since History. His attitude has changed. He's become angier, more aggressive and using more high risk moves. I wouldn't say he wants to beat up his opponents, but he does want to send a message to everyone on the roster, to say he is called the Chosen One for a reason. He's already said he wants a crack at Mr Richards and his CPW Championship, so let's see how that pans out. Great to see him back on form after his loss at History 5.
Now, the main event. Birthday Boy Morris against Dan Evans. Morris has been on a tear lately, with the win in the 6 man match at History and beating Eli Conners at the last fun day, Morris had momentum coming in, but Dan Evans is dangerous. He holds a championship, he's a seasoned veteran, and has wrestled the best, and wrestled them all over the country, he is, in short, dangerous and the most experienced wrestler Morris has ever faced.
This was a knockdown drag out match. Both guys coming out with heavy strikes, but I couldn't tell if Dan was toying with Morris to begin with, but he got the upper hand shortly after and took Morris down. Morris got back up and got the crowd fired up, giving him the strength to fight back. He did in a big way, which lead to a big combo of moves that he and I have come up with during training, to fight back with if his back was ever against the wall and he got a slight opening. Morris dodged a clothesline by Dan, then hit him with a dropkick, followed by the avalanche splash in the corner. He then hooked him over with a Suplex which lead to a senton splash on a downed Dan. Then Morris dragged him up and hit him with the stunner. Down for the count which ended at 2. Morris was in shock, but he pulled himself together and went for the Wasteland or possibly something else. Dan countered it brought back his momentum by clocking Morris, then picked him up in his own fireman's carry and hit him with the Death Valley Driver. We all thought it was over, but Morris valiantly kicked out at 2. Even I was in disbelief at what I was seeing. But now the playing field was even, both on their last legs and the next big move would win it. Morris got the better of the next exchange, pulling Dan up and hitting him with the Samoan Drop. Covered him for the 3, Morris wins for the 3rd time in a row, and catapults himself through the singles ranks.
The crowd went ballistic, but this was cut short when Seth Skyline came in and they double teamed Morris. Then the other bad guys came out to work on Morris too. Then the good guys came out to save Morris, and just in time. They were all over the arena, bodies and limbs flying, and most being thrown to the back. The last were the Murder Squad and Morris. I ended up jumping up onto the apron and getting in the ring to yell at Dan to make him stop. Dan turned his attention to me, with a mad look in it eye, I didn't know what he was going to do, but then, Morris and in turn I was saved by the appearance of Mr Richards. I jumped out of the ring, Mr Richards gave me his title belt and jumped in the ring and started beating up Seth Skyline, before hitting him with the Pedigree. The Murder Squad dashed off, and Morris and Richards celebrated in the ring with some Heineken Zero in a way to make Steve Austin proud.
What happened next shocked me no end. Morris turned his back on Mr Richards, hitting him with the stunner. Craziest part was that the crowd cheered him for it. Morris didn't have much to say about it after, but he has been vocal online since. I have the feeling what he did was an act of passion however, not spite. After so long he is finally winning, taking out 3 heavy duty opponents in a row, including a title holder. Also as he is so popular, I don't think Morris has turned bad as such, it's just being the Natural Born Outlaw, as he's known, he's living up to that reputation. He's a rebel, who will now tear through anyone who gets in his way be they good or bad, friend or foe.
I've noticed that Will Starr has adopted this kind of attitude as well, and it makes me wonder if these two will clash down the road. They both want the CPW title, it's probable. Mr Richards has a massive target on him it seems. Beast wants a shot at the belt and will fight for one in Season 6, also Tom Lindsay may still be lurking around and wanting a return match, and Danny O'Neil has the golden ticket. That's 5 people in feasible contention for the championship. This is going to make Season 6 most tense and most exciting, and anything can happen between now and 15th September.
However we still have one last show before the season starts. Summerfest 3 on August 25th at the Coventry Saracens Rugby Club in Binley. There will be a meet and greet with the CPW talent, stalls, food and drink and charity events. But of course there will be the Summerfest wrestling show with a stacked card as always. It's a free event and we'd love for you to come.
Yours Truly,
Frankie Summers