9th March 2020
Summers Gazette – #37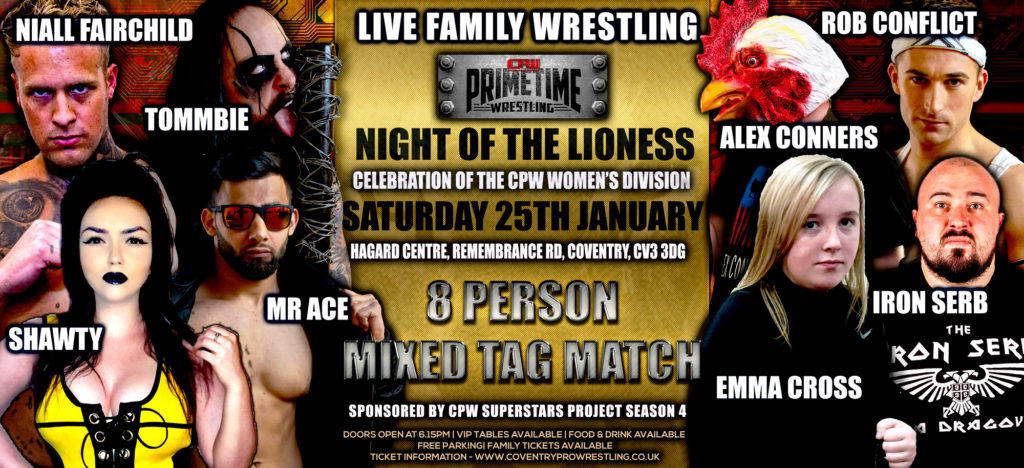 Night of the Lioness
Ladies and gents, Frankie Summers reporting and happy new year to you. Our first show of the year was Night of the Lioness, a show to celebrate the CPW Women's division by showcasing their talents with most of the ladies in the division having matches on the show with a mix of established talent and some new talent too. It wasn't all about the ladies however, there was a mixed match and a few men's matches as well, this due to there being some grudges that needed to be settled if at all possible. There were 8 matches in total and each one was a thrill ride, but as I was in the back it will just be highlights.

The show was hosted by Caitlyn James as was in keeping with the theme of the show, I helped with the opening but I stayed in the back to do interviews and keep order in the back. We started the show with a political message from the latest US Presidential candidate, representing his 51st state of Great Britain, Alex Conners, he came out and gave his mission statement and announced he needed a vice president. So, as a result, he called out the only other American on the roster that he trusts, and that man was the American Dreamboat Rob Conflict. They came out to proclaim their mission statement while Alex mispronounced the name of the city that he's been wrestling in for more than 2 years. The city's name is in the name of our promotion, you sausage. From what I could tell under all the booing those two tried to lay out their game plan to become presidential candidates and said they needed numbers, including a new head of security. I assume he will need some kind of media officer too, but I'm not stepping into that role, I don't owe those two misfits anything. I went to the back to conduct interviews so I missed the first match and what happened, but a reliable source told me briefly what happened.


We opened up with a Number 1 contender's match for the Nextgen Heavyweight title as the Superkick King Bashby took on the Jester Jayrow in a match that has been months in the making after they were meant to face each other in the Galaxy Championship tournament but Jayrow lost his place due to cheating to beat Morgan Black in his Semi-Final match. This was the time to blast away the other man and see who was the better man.
Bashby launched himself at Jayrow with the flying knee which quickly took him off his feet before Jayrow retreated and Bashby followed up by hitting the cannonball on the outside. Bashby threw Jayrow back in and jumped up to continue the aerial assault but he was caught by a kick of the rope and proceeded to work on Bashby with strikes and full control. Eventually, Bashby found a gap and struck back, with his series of heavy strikes. Bashby tried to end it with the Superkick but Jayrow blocked it and attempted the Flatliner, but Bashby countered that and reversed it, hit the Superkick and got the 3.

Bashby came out victorious and got his number one contender's spot for James Cross' Nextgen Heavyweight title. I interviewed him backstage and he sent a vendetta to James and to Scott Oberman who he says cost him the Nextgen title the first time and I'm inclined to agree with him. I cannot wait to see this challenge, but Cross has a way of weaselling his way out of direct conflict and as clever of a tactic it is, it's dishonest, not that Cross has ever cared about honour or even what the fans think.

Our next match was the Pink Power of CPW, Luna Rox taking the debuting Kiara in what was an intriguing contest. Kiara said how excited she was to finally be a part of CPW, and the history books show that Kiara is no stranger to our city having wrestled at AMP in times gone by. As is always a good contrast it was power and strength against speed and technique. For the most part, it was a sporting and back and forth contest but it ended controversially. Luna went for her Fisherman's Neckbreaker, she calls it the Twisted Pink, but Kiara fought out of it, but after they started fighting at close quarters, the ref Kurt Pliskin got in the way and Luna raked Kiara's eyes, blinding her temporarily before hitting the Twisted Pink and getting the 3. The crowd rained down boos on Luna for this cheap way of ending it.
I pulled Luna aside after the match for an interview and she tried to claim that she was just stretching which seemed suss to me. Noone's buying that explanation, Luna. When she got her sight back Kiara came over for interview as well and was very emotional about it all. She said how the CPW Galaxy made her feel so welcome and she would love to come back and take Luna on again or anyone else willing to rumble with her. I was unsure about Kiara before because she endorsed Alex Conners, but I found out they have known each other for years and didn't realise what he's become in CPW. Now I've seen how sporting she is and how thankful she is for the fan support, really endearing herself to the fans. I hope she comes back and we certainly want to see these two wrestle again and sort this rivalry fairly.

Next was the long-awaited street fight between long time rivals Harley Harris and Shauna Shay. Shauna told me that this, from memory, is the 30th contest they've had together. They have fought all over the Midlands but I could not confirm who was leading in their feud as both girls gave different answers. CPW is just another battleground for these two women. This was rage-filled and brutal throughout as both women took full advantage of the ruleset, with Shauna taking an uncharacteristic approach brawling with Harley just as hard as Harley was with her. They went all over the ringside. There weren't many weapons involved but there was certainly action and violence, but thankfully no blood. Shauna was smacked around ringside and Harley demanded the entire Bar Side seating row, the biggest of the 3 sides to move but it was all a ruse as Shauna was about to be launched into the chairs at the front, Harley U-Turned, laughing and casting her back into the ring. The fight didn't stay in the ring much longer as Shauna was thrown out again and put against the post. Harley charged in and Shauna dodged, making Harley hit the post. They fought over to where we were at the announcer's table and Harley said: "Give me a weapon, anything!" The only thing to hand was Mr Richards' crutch that he'd left on the floor behind us, so we panicked and passed it over and she tried to wallop Shauna with it and failed. Shauna caught the crutch and smashed Harley with it before giving it back.

Harley got the cheap shot and threw Shauna back in the ring before throwing in a table that she set up in the corner. After some see-saw momentum changes as to who was going to go through, Harley was placed in front of the table and Shauna speared her through it before getting the 3 count and the win to become No 1 contender for the CPW Lineal Women's Championship, at that point held by Natalie Wild, but what would happen in the next match as 4 ladies fought over the belt? I pulled Shauna aside and she said she was happy to get her hands on any opponent. It's revealed that she and Lacie Adams have had their problems elsewhere and had a tiff backstage before the show. Harley was very angry at this eventuality and said that she felt cheated and was ready to throw down with Shauna again any time. The whole point about matches like this is there are no excuses and no reasons to not succeed other than your opponent besting you.

To close off the 1st half, we had some gold on the line in the match I've been most looking forward to as 4 of my favourite ladies duked it out as Natalie Wild defended her Women's Lineal Women's championship on the line against Alfie Rogue, Sarah Skylark and debuting Lacie Adams. Natalie hasn't been appearing as much on CPW shows lately, but it makes it super special when she does, being the Queen of our hearts and the Queen of the Galaxy, she always makes the right move and a big impression. Sarah Skylark hasn't been with us much since she lost the CPW Women's championship to Lucia Lee and this was her return title match as guaranteed in her contract. Since we last saw her, she has become a Philosophy PhD Graduate, so now you may refer to her as Dr Skylark. Regardless of how you feel about her, that's a massive achievement and it shows how hard she works at all of her crafts. I would make a philosophical quote, but I can't think of one.

Alfie Rogue has been making waves since she started in the Summer of last year, even getting a pinfall victory over Lucia Lee at Let's Go after a less than fair tactics which left Lucia livid and enraged and for her recent win record, she gets her place in the match. The last entrant is Lacie Adams, and I have no qualms with saying we're quite dear friends and have been there for each other in our wrestling journeys since she came through our doors as a fan about a year ago for Elimination. Since then she's kept an eye on the promotion and after the suggestion of a couple of people, she was picked by CPW to be in this match. Lacie is mainly based around the West Midlands and Birmingham region for various promotions. She's won a rumble, competed for a few different championships and has even clashed with some known figures in CPW on her travels. Her short career is filled with accolades and her skill backs this up.

This match showed just how brutal and nasty the women of CPW can be, just as much as the boys, maybe even more so. Forget sporting honour, this was all fangs and claws. For a good amount of the match, it was seemingly 2 on 2 with Sarah and Alfie teaming up to pick apart Natalie and Lacie respectively and showing unity and dominance throughout, but when Sarah tried to get a pin on Natalie, Sarah was pulled up by Alfie who shoved her, yelling "what do you think you're doing" Which devolved into those two trading strikes at close quarters, tearing into each other. They broke off and focussed on the other two independently and Lacie struck back on Alfie with a savage DDT.

It ended when Natalie hit a Stunner on Lacie which knocked her completely out. Sarah has been cleared from the ring and in a similar move to James Cross retaining his title at the Bash, Alfie pushed Natalie off Lacie and snatched the pin for herself to get the 3, Alfie Rogue is your new CPW Lineal Women's champion. The fans were enraged at this and a VAR chant started going out among the crowd. There is an issue with that, however, because of a rule, we stopped mentioning because it's the same without exception in all multi-person matches. It's no count-out and no disqualification.
Alfie could have walloped Natalie or anyone else with a chair to get that steal and it wouldn't have mattered. This is why I stuck up for Alfie's actions in her interview afterwards. Alfie is over the moon with the win and having another championship to add to her resume. The match is set, it's Shauna Shay vs Alfie Rogue for that CPW Lineal Women's Championship, that's coming soon as it's Spear vs Spear, let's see who's is best. This brought us to our interval where Kiara, Morris, Bashby, Lucia and Niall Fairchild came out for photos with the crowd. I wrapped up with more interviews and we carried on with the show as we went to the opener for the next match.

Next, we had the 4 on 4 tag team match. Shawty and her team of Mr Ace, Tommbie and Niall Fairchild taking on Emma Cross' team of Iron Serb, Rob Conflict and Alex Conners. 2 of the Academy's entrants with a ton of potential teaming up with a selection of older and newer talents. No clear advantage one side over the other with a mix of power and experience on both teams. CPW Management really does know how to call them dead even. This was 2 generals and their 2 task forces and it was an explosive way to start part 2. The two ladies started by clubbing each other and Shawty got the advantage quickly with some short, sharp clotheslines which sent Emma reeling. She retreated to her corner to tag in Iron Serb who was quick to get in the face of "Leetle gairl" but with our rulings, women and men cannot fight each other as the legal competitor and Shawty had to tag out. Before she could, Serb grabbed Shawty by her hair and she got in the low blow behind the ref's back which got the crowd popping heavy. Niall and Tommbie came in together and put Serb up for a 3d, planting him in the centre before tagging in Mr Ace to get the pin, the good guys win and Emma Cross' team goes home with their tails between their legs and they go to think about what they did. This isn't over for Emma and Shawty or Serb and Ace as this pair of blood feuds runs far deeper than mere rivalry and a final confrontation for both will be the only solution to this.

Next was the Grudge match as Imperial Dragon took on one half of the CPW Tag Team Champions, George Lydon. At least that's what we thought would happen. I came out with an urgent note as Dragon was about to open his big maw to spout about something, but I interrupted him to say that I had a piece of paper to say that the match would now be for the Tag Team Championships as George had one of them and Kieran Young could not attend. Also, Tommbie had just wrestled and was not signed to wrestle 2 matches for the night, so the stakes were ramped up. Then, suddenly some unfamiliar music played as a young man bursts through the curtain. I'm sure some people thought "Wow, Ryan Conway has really pulled himself together" However it wasn't Ryan Conway, this young man is A.C. Striker. A guy who people didn't know about, but the ladies seemed to enjoy him. Allow me to throw a little light on the situation. A.C. comes from Huddersfield, he trains up in Lancashire and is part of the PCW Academy. No, I didn't just misspell our name, that's Preston City Wrestling. They have a TV slot on Friday Nights on the Showcase Channel. He's trained by ITV World of Sport star CJ Banks and wrestles all over the North West. He's even been on PCW Television and is renowned for his fast and high impact style. He jumped in the ring and was ready to go, but then we were interrupted again as the Queen of the Future, Cleo finally made herself known, after Fifi was revealed to be Apollo Vela under the mask at the Xmas Bash, killing the dreams of so many people as we had expected better. Cleo's boon for winning Ruler of the Galaxy was getting a title shot at any time and any place. A Royal Decree if you will.

The match was hectic and fast-paced for the most part and the 2 smaller guys showcase their speed and aerial ability and Dragon kept both men at bay with his already increased aggression to be being upset. During this, Cleo picked her spots and avoided the brunt of the action to pick up the win after George hit the RipcodeBreaker on A.C.Striker. George was enraged at this decision, so was Dragon and afterwards in the report, I was going to tell the fans what happened when Dragon interrupted me and called out Tommbie and said he was on holiday at the time Tommbie defended and lost the belts alone. As I remember it he sent a note to Katie Smith who passed it to me before the match started to say Dragon told Tommbie he was on his own. The Dragon came out after the fans had left and we were taking down the ring and yelled out to find out where he is. Someone pointed him to the trade exit and Tommbie was sat outside. Dragon blasted Tommbie with the Kendo stick and slammed his head against the ring van before shutting his head in the door repeatedly. The match is set for There's No Stopping Us at Dhillon's Brewery and you do not want to miss it. We can finally see the no holds barred resolution as these two otherworldly beings finally get to demolish each other.

The penultimate match was the Number 1 contenders match for the CPW Tag Team Championships as Morris and Will Starr of the Wrestling Mafia took on Dread and Lyon of the 666 Pack. Since the Xmas Bash, the bond between Will and Morris has been a touchy one, to say the least. The better man came to the surface on the night and they have been at odds ever since. Could they work together or would it fall apart again thanks to the men from Satan's Layby?

Will started off with Lyon and was too quick for him, out of frustration Lyon tagged Dread and Will used his experience and technical skill to break him down before tagging in Morris. Morris locked up with Dread, who put Morris in a headlock and was thrown off the roped as he shoulder tackled Morris who didn't move, he tried it again with the same outcome. Dread shook up the tactics a bit and cross bodied Morris who caught him and hit him with a gunslinger and pinned him for the two count. Morris tagged in Will and they double-teamed as Morris dropkicked Dread and Will elbow dropped Lyon. Will got to work but was cut off and Morris tried to get in to break it up but the ref stopped him until after a long and methodical beating from both members of 666, Will finally managed to tag Morris back in after reversing 666 Pack's double team move and Morris went hell for leather on both of them with fists and forearms until he knocked Dread out the ring. He measured up and then hit a TKO on Lyon who kicked out at 2. Dread and Will came in at the same time, 666 pack got the upper hand and whipped both off but both men countered. Will with Reverse Thrust Kick and Morris with a Shotgun Dropkick. Will clotheslined Dread out the ring and Morris speared Lyon out too. It devolved into a brawl broke until the ref was trying to control Morris and Lyon didn't notice Dread hit Will in the legs with a steel chair, Morris chucked Lyon into the ring and went for the NBO Drop, but he reversed it and the 666 Pack now unopposed by the Chosen one, hit the Welcome to Hell and the match was over.

666 Pack are once again number 1 contenders for the titles but where did this leave Morris and Will? They faced each other in the ring once more but they had a show of respect in the ring as it was neither one's fault this time. They didn't fall out, there were no petty squabbles or trying to steal glory from each other. They went out, worked as a cohesive unit and they got cheated out of a possible win by the more devious team. The thing is, will Cleo find a tag team partner to defend those belts against these two heavy metal monsters or will George Lydon's prediction come true and everyone will leave the Queen of the Future in the dust?


Lastly, we had our main event, the big one, the match with the same energy as Mr Richards vs Will Starr, the same as Tom Lindsay vs Flash Morgan Webster, the tension was heavy with how dense the atmosphere was. There was electricity in the air as the long-awaited rematch between the 2 Lionesses of CPW and it was time to see who would be the Alpha and who would just be part of the pride. It was Hannah Taylor, it was Lucia Lee, and it was heavy duty in the rematch we've all been waiting for.

This was one of the best, closest and most exciting matches I have seen in a while and it showed just how great both of these women are. It started with a wrestle-off and Hannah taking down Lucia early and locking in a cravat while locking the arm, wrenching on both parts. Lucia was let loose but got the opening for a headlock, followed by a takedown which Hannah unsuccessfully countered with a pin attempt. Hannah got back up and tried to break free before countering the move with a takedown of her own before hooking a pinning combination that was kicked out from at 2. They faced off again and another locking exchanged put Lucia in the splits, dodging a kick which had another roll up and 2 count. 2 counts were exchanged back and forth as no one got the decision they broke free to reset which was the wisest move.

Hannah egged Lucia on to charge her, she took the bait and Hannah threw Lucia over with a springboard arm drag, followed by a shoulder stunner and a 2 count. Lucia fired herself up and struck back with heavy shotgun dropkicks. Hannah brushed them off and went for a clothesline that Lucia countered with a bridge which the supports were kicked out from under her when Hannah kicked her hands. In an act of rage, Hannah pulled off her sleeve and threw it down to make those strikes heavier and harder. After clubbing Lucia and whipping her in Hannah charged and was thrown over the top but landed on the apron and kicked Lucia before Lucia slid under the ropes between Hannah's legs to attempt a powerbomb but Hannah countered and stomped Lucia on the floor and
tied her in the ring skirt, continuing to attack relentlessly and choking her in the ropes before pulling her in and hitting a suplex and locking another headlock. Lucia fought up but got flattened by an elbow and a Hannah for a 2 count. Lucia hung in there but Hannah still took control.

After a whip exchange and another unsuccessful pin attempt, Lucia was pulled up as she changed her tactic up and decided to try and out brawl Hannah instead of outwrestling her. After forearms, chops and a reverse thrust kick Lucia for a 2 count of her own. Lucia pulled Hannah up for the Apple Lucozade DDT (as it's called now) but Hannah countered it with a Russian Leg Sweep, followed by a cross arm breaker which Lucia countered into a pin, favouring the arm, however she fought through it, bypassing Hannah and popping her up into a falling powerbomb which got another 2. Hannah rolled out, seemingly to save her title by count-out but Lucia went for the charge, possibly for a Suicide Dive but Hannah hopped up and caught her in a front face lock and DDTed her onto the Apron. It didn't get the win however and Hannah pulled Lucia for a Pedigree, Lucia reversed and hit the A.L. DDT successfully and got a 2. Lucia made some distance and went for a surprising move trying to tune up the band. Hannah blocked the kick and countered it out for that short lariat takedown the Pepsi Twist which got a 2. Hannah was frustrated and measured up Lucia before going for another Pedigree, Lucia countered and hit the Natural Selection (Rolling Neck Snap) and Lucia got the 3 count to retain her Women's title.

The match ended quite controversially however because as Lucia got the Pin, Hannah kicked out with her shoulder up seemingly just before Dale's hand hit the canvas however the bell was still rung and Hannah hopped up angry as to what had happened. Caitlyn James announced Lucia as the winner. Lucia told the fans what a great match she felt it was and offered the hand of friendship, but Hannah, after taking the hand decked Lucia with a forearm, then they continued fighting. The other girls came out and tried to stop it until Mr Ace came out in a bra and shrieked for the girls to stop before grabbing the mic and saying why he's wearing the bra and begging our ladies not to fight. This kind of worked because the bad girls decided to all team up on him instead, but after taking a beating they all turned on each other as they all spilt out of the ring. Lucia vaulted to the top rope as all girls gathered in a corner as she launched herself off the top, laying out every beneath her before getting back in the ring and telling Hannah it wasn't over. Hannah then grabbed the microphone and exclaimed her displeasure at this decision. The show was over and bodies were plastered all over the place. The girls all picked themselves up and headed for the back to process what just happened.

Hannah came to me in the back demanding a moment to speak her mind on camera. I obliged and we talked about what happened, and while I was talking to her, she made a very strong case for what happened. I don't know exactly what happened there as I'm not Dale and wasn't the match official. During the interview, Lucia charged in all venom and fangs, screaming at Hannah, telling her she'd betrayed her trust and friendship as Commentator Conor and Bashby had to hold Lucia back as she wanted to continue the brawl in the back. Even Big Eli ran in to see what the commotion was. After the two women were separated, the match was set for There's No Stopping Us as Lucia Lee faces Hannah Taylor one more time for the CPW Women's title, and it was going to be No Disqualification. No excuses, no holding back, one woman will prevail and be your CPW Women's champion without question.

This was the end of the show and I have to say that this show left me with a massive smile on my face and rightly so, it had some of the best and most surprising action I have seen in recent times. Our ladies are not timid flowers, they have thorns to stab with and insects ready to swarm and sting. It was a wonderful tribute to the women of CPW and Women's wrestling in general and it was great to see some new faces throwing down with our regulars and winning the hearts of the fans once more. We will see you next time on the 1st Feb at Dhillon's Brewery as we go all the way back to the 1980s! For now,
Frankie Summers is signing off we will see you there!