25th October 2019
Summers Gazette Entry #33 -F**K U!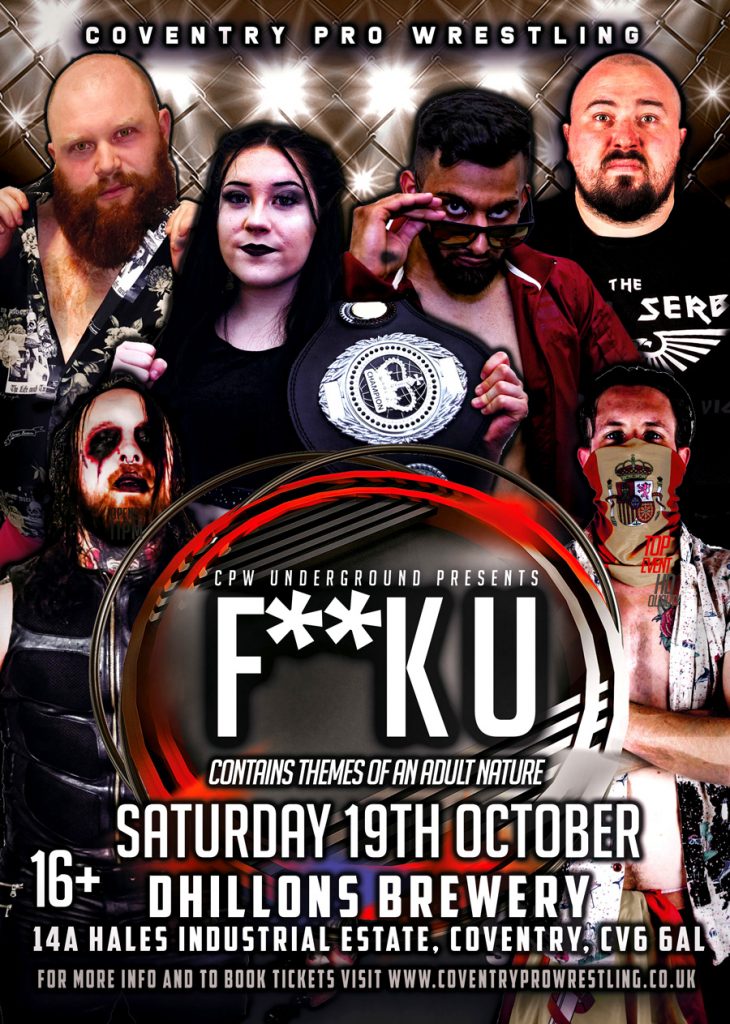 *Warning, this blog contains adult themes and strong language, reader discretion advised*
By the order of CPW, welcome Galaxy to this rundown of CPW Underground and the show christened as F**k U. I like to think it's after what I yelled at Alex Conners in his match with Eli but it could be for any number of reasons.

F**k U came to you from Dhillon's Brewery, a much-beloved venue by the roster for the fantastic facilities and hospitality given. We've done one show there before and the ending was possibly the most brutal we've seen in a long time. This one was brutal in other ways. Now despite the lack of blood, there were other forms of gratuitous violence that the fans got to see and we loved every second. Myself and Leyton Simms led proceedings as our very own version of the Peaky Blinders. Yes, we're about 20 miles away from where it would have happened but it worked for the aesthetic we had going.

What we did was have one of us on commentary and the other calling the match in the booth with Alex Conners. It worked well; it kept it fresh and allowed us to get some jokes in. Because some of the ones I came out with are so childish it was permissible for me to deliver them in my trademark way which brings out a groan. We were about to start the proceedings but were interrupted by someone going Sshhhhh on the speakers. It turned out that the 2nd mic hasn't been lost, it was taken by this person. It was Kevin Isaac and a very angry and disgruntled Kevin Isaac at that. He came out, throwing up fingers at the fans and insulting them before starting on myself and Leyton. He shooed us out of the ring and stated his business. He inserted himself into the singles match between Jimmy Vice and Morgan Black, making it a triple threat. It was agreed and confirmed, that will come later.

We opened up as fresh from his Tag team championship win with Imperial Dragon, Tommbie and an unannounced partner as Mr Dragon could not make it. After requesting the microphone, Tommbie announced that he got the perfect partner, someone who was unpredictable and that person was Apollo Vela. He came out as the 666 Pack, Dread and Lyon, came out to take up their challenge. As to be expected with 4 big and brawny men, it was high intensity and high impact. Apollo was taken out of the picture by the 666 Pack which left Tommbie on his own to fend both men off. Apollo waited outside to pick his spot it seemed but it didn't work out as he was taken out of the picture a second time as Dread headlocked Tommbie and yelled WELCOME TO HELL! Before hitting the bulldog, smacking Tommbie's head onto Lyon's knee and pinning Tommbie. The 666 pack rolled out and
Celebrated on their way back as an enraged Tommbie called in Apollo and yelled at him for not being there when he needed it, and saying it would have been fine had he had a better partner. Apollo left and we moved onto the next match after Tommbie stormed to the back.

The next contest was a bit of a grudge match as Jake Casanova faced off with the Iron Serb. Jake decided to let his hair flow this time and in a more serious approach decided to cut the dancing. This shows how serious he was. Iron Serb came out and decided to antagonise the audience as well as myself. He did the usual thing he does, this is pulling my suspenders and snapping them against my chest. This time hurt particularly as he'd pulled it back further than I'd expected. It keeps happening but I keep trying to put a brave face on it. The match was what you would expect from both men, as both are experienced, but Jake took things far more seriously than normal. Before the match started Mr Ace came out with no ceremony, waving his CPW Heavyweight title around and just being a general nuisance. He said he was there to represent the Iron Aces. Serb protested this and said he was only there to represent himself. Ace tried to help Serb throughout the match with varying success, it came to its conclusion after Serb hit the World's Strongest Slam on Jake and couldn't make the cover. Ace tried to get him back into it but Jake kicked out at 2. Ace grabbed a chair and tried to get Serb to plant Jake's head into it to finish him off. Jake shoved Serb into the chair, knocking Ace off, rolled Serb up and got the pin, Jake is victorious, the Iron Aces risk falling apart again. After a brief argument Serb stormed off and Mr Ace was left embarrassed yet again. It doesn't look good for these two and if Mr Ace doesn't pull it together and try and hold himself back, he will never make this unit work.

Next, we had the Triple Threat match as Jimmy Vice, Morgan Black and Kevin Isaac faced off in a no disqualification encounter. I took my place in the commentary box for the first time ever for this one as Leyton Simms announced for the first time. The match was brutal and a display of all 3 men's abilities, but it really showcased this new and terrifying version of Kevin Isaac who we've been threatened with on his recent videos. He grabbed a crutch and not making any alliances, he smacked both men with it. We still don't know where it came from. After an intense match, Kevin managed to pick up the win after some opportunistic tactics and got out of dodge as soon as he could, flipping off the crowd again and swearing. This version of Kevin has a ton of potential and I think before long he will have a championship opportunity once again, and whoever it is, he may just take it.

Next, we had our first half main event, a No DQ I Quit Match where the only way to win is to make your opponent submit by them saying I Quit. This was for the women's championship with Lucia Lee defending against Alfie Rogue. Alfie had pinned Lucia in Leicester at Let's Go and Lucia got retribution by pinning Alfie at 2 previous shows, including Summerfest 5. This was winner takes all, high stakes and the odds stacked against Lucia because Alfie is more experienced in No DQ settings, Lucia has had no DQ matches but only 2. One was a fatal 4 way and the other was the Falls Count Anywhere match from History 6 against Sarah Skylark.

This got nasty fast as you'd expect with a lot of rough necking and heavy strikes. It didn't take long for the weapons to come out, chairs, boards and other things. It's a match that left fans conflicted. While we wanted to see these pummel each other, we didn't want to see them get hurt. Alfie tried to end it quickly but it didn't work and Lucia turned the tables fast. After a couple of submission attempts, Dale asked if Alfie submitted, to which her response was "Fuck off Dale!" This was her response on 2 occasions, the second time Lucia yelled "Noone talks to Dale that way, bitch!" then proceeded to hammer away more. Lucia wrapped it up with the Cattle Mutilation submission which got Alfie tapping and saying she quit after about 20 seconds. Lucia retains her CPW Women's title spectacularly. This is what I love to see, the adaptable champion that Lucia has become as she takes on all challengers, but I have the feeling Kat von Kaige will still be on the prowl waiting for her chance to strike down the line. This led to the interval where we prepped for the insanity to come.

The next match was the singles match between George and James Cross, 2 members of the former G6. Whereas James stood with G6 until the end, George turned on them before the big match, just like he turned on Will to join the G6 in the first place. This was a grudge match as these two pounded on each other at Reload, not it was time for them to brawl for real. It was a close and hard-fought match where we got to see all of both men's special moves. You could tell that there was a real grudge here, but there was a lot of polarisation as the fans didn't seem to be sure if they could trust George. They also didn't know what kind of James Cross we would see as well. The match concluded when after a fast-paced exchange, George got behind James Cross and hit him with the Ripcord Codebreaker and pinned him for 3 with a very pronounced and satisfying finish.

The crowd did start to get behind George again and he seems to be going back to his old ways and it's great to see. This young man is doing well now and with his youth and everything else going for him, he has a bright future ahead of him. I can't wait to see what happens next.

Next was the moment that all of the weirdos were waiting for; the Love Shack match. This was contested over the Nextgen Heavyweight championship as Russell Hardwood defended against the Emperor Drake Wynter. This is a CPW Underground overview, so I mention what we saw. The match was my firm favourite of the night as it had me on tenterhooks the whole time. The rules of the match were as follows; No DQ, No Count-Out, No Submission, the only way to win was by pinfall and you had to be in a sexual position (Luckily, the children weren't around for this vulgar and lewd display). We had whips, a paddle covered in tacks, an inflatable phallus as well as solid rubber ones, a certain kind of bead strand and a special surprise at the end that I will mention later.

Drake wanted nothing to do with this match once I informed the crowd of the rules, he said the title wasn't worth going through such a match. Russell came out and told the crowd that he had a special surprise; his valet, Stacey. Who was, in fact, a blow-up doll. People mocked Drake, telling him it's a site he should be very familiar with. After the match eventually got underway, the whole thing was brutal and so entertaining, just seeing Drake getting beaten up with sex toys was hilarious and brutal. Russell got the bead stick and did the 10 punch in the corner which got the crowd really going. Drake fought back on numerous occasions with his backbreakers and neck breakers and raw power. He had it seemingly won on a couple of occasions, but because he wasn't pinning the way he was supposed to, none of it counted. Eventually, on the 3rd attempt, he mounted Russell and put his legs on his shoulders, much to his inner conflict but Russell kicked out. The most brutal moment was when Drake took the paddle and hit Russell with it. Ordinarily, it would just cause an impact mark, but this paddle was covered in thumbtacks and it stuck into Russell's back. Another key moment was when Drake popped Stacey and it sent Russell into a rage that made him mad all over Drake to avenge his lady of the night. It wrapped up when Russell got a butt plug from under the ring covered in a brown substance that I'd sooner not go into. Drake ended up getting it in his mouth before being hit with The Big Ending before Russell pinned him and won the match to retain the Nextgen Heavyweight Championship. This match was a riot, and easily my favourite of the night and it makes me think that Drake won't be coming back to this love shack any time soon.

We wrapped it up with 6 man action as the team of Jayrow, Jordan Blaze and Dingo took on the team of Bashby, Will Starr and Morris. On paper, this looked fantastic for Will Starr's team as it was 3 of our top-flighters against 2 relative newcomers, one of which 2 of the 3 have beaten soundly, an inexperienced man from a disbanded faction and a back fighting clown.

This was a showcase of skills by our 3 heroes against the less experienced team, seemingly thrown together out of misguided grudges and a mutual cause, but hatred is a powerful mutual cause that sadly strongly unites people. It was war with Will's team having control for most of it, but the main issue was the tension between Will and Morris. People were cheering for Morris the most by far, which visibly frustrated Will, which brought out a more aggressive side to him that we are used to seeing. Morris was going to try and polish off Jayrow, but Will tagged himself in when given the chance which set the fire between the two off again. Bashby begged them to focus on the match and taking out their opponents, and they seemed to pull it together enough to clear the ring and single out Jayrow. After another dispute, Will was cleared from the ring by Jordan Blaze and Morris was hit with a low blow from Jayrow and rolled up for the pin and got the 3.

This lead to being very close to getting to a punch up between Will and Morris. Bashby had to be the voice of reason in all of this and he managed to simmer both men down and luckily it worked, but these two are part of the same group; what is going to happen next, the Bash isn't for another 2 months, so will it be that they have to be kept totally separate unless they can learn how to behave, like two quarrelling children? I don't know what the best solution is but it's clear that these two are struggling to work together or even just get along civilly. I dare say we will hear their thoughts in a video message very soon, but I can tell both men's patience is wearing thin. Before it was sportsmanlike but now it's become bitter and resentful. While I am looking forward to a fantastic match between these two, but it's someone I've trained with and who has been there since my first day in a CPW ring against the man who has trained me more than anyone. It's a confrontation that looks amazing on paper as a good mentor vs student battle is always good to see, as we saw at Elimination when Will took on Mr Richards in the CPW Prison. However, I wish to remain neutral and hope these two tear the roof off the building in a good sporting contest and not have one of them go rogue. The best man will win either way and we just need to wait to see who that is. Jayrow, Dingo and Jordan Blaze have achieved a massive upset which will surely shoot them up in the power rankings and if it doesn't I will be most surprised. Jayrow has been dominant since he came in, Blaze is back to his winning ways and Dingo seems to have found his footing again so keep an eye out for those three.

This meant the end of the show and more hype building up to the Big Xmas Bash on December 21st. However, we should be getting just as excited for our show next week as we get ready for Halloween Nightmare. Steve Valentino and Mariah May will be returning to CPW, and the 666 Pack will be making their first appearance at the Henley Green Community Centre. Myla Grace will be debuting and we will see Morris and Will Starr try and put their differences behind them as they face IQ3 and reigning CPW Heavyweight Champion Mr Ace in tag team action. That and a whole lot more, so please, make sure that you pull out your fancy dress costumes as it will be once again time for the creatures of the night to come out to play. I will make far more of an effort than I did last year, but I am sure you will love that I've come up with, we hope you come along and pull out all the stops.
For now, this is Frankie Summers signing off, we will see you at Halloween Nightmares on the 26th of October.