29th November 2018
Frankie Summers – Blog #12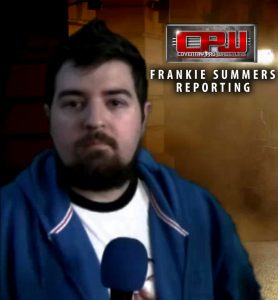 Halloween Reload
Frankie Summers reporting once again and this time it's for the Halloween edition of NextGen Wrestling. Originally it wasn't going to be a Halloween show, but due to popular demand we made it so. Reload is also the first episode of NextGen for Season 6, so now CPW is officially in full swing for the coming season. I didn't get to see all of each match for reasons I will explain, so these are brief.
I resumed my role as reporter for this show as I got interviews with Jake Casanova, House of Beards, Will Starr, Shauna Shay and Victoria Adams, check those on the Facebook page. I have to bring up what a great Halloween feel this show had. Dale looked the part as Dracula. Caitlyn James announced the show dressed as Beetlejuice, and I had my face painted with the skull of the Punisher. A character I've been known for loving for a long time, and he is also known as Frankie, so it goes well with me. Maybe next time I'll be him instead, but I didn't dress up as my Phantom of the Opera costume wasn't all assembled by that time.
The intro was hosted by myself, and Caitlyn James was mistress of ceremonies, and we opened up the show in fine style. We got a debut from the Welsh team of Lucky Bowden and Jay J Roberts, the House of Beards tag team as they faced off against the team of Jake Casanova and the returning Morgan Black, known as Casalicious. This was a fun opener, Jake and Morgan did their thing and straight off tried to get their opponents to face them in a dance off. Lucky immediately said no, but Jay J eventually got right into it. Lucky disapproved of this, but this got the fans behind them surprisingly, as at least one of them seemed to be in it for fun. After a very balanced match, the Beards managed to get a shock victory, which means that they have been awarded a number one contenders shot against the Merseyside Murder Squad, which will be a great match as well. Someone has to stop those to, so why not some new and fresh competition?
Next was a match between Fifi and Imperial Dragon. Dragon was still riding high after his win over Drake Wynter at Betrayal, but FIFI has been getting his groove back too, advancing in the ROTG tournament. This one was a slugfest, through and through. Fifi had to get a bit more serious on this occasion as Dragon as has been said before is very experienced and doesn't take prisoners. There seemed to be less theatrics this time which is of course unlike Fifi, but this could be seen as a change of tactics that just wasn't expected. For the most part this match was mainly heavy strikes, flying and raw power moves which ended in Fifi hitting the Fifi Factor for the win. This was a nice way to make up for Dragon winning last week and his response to the fans after the match, that has been raised with management, and he has been admonished for it.
Next is the rematch from History 4 as Will Starr took on Tommbie. Last time they faced each other in a CPW ring, it was a hardcore match that lead to Will setting fire to a plank of wood wrapped in barbed wire that would get any deathmatch fan bubbling over. This match was for a place in the semis of the ROTG tournament with the winner going on to face perennial bug boy Tom Lindsay. This was a close and tight match and you can tell that the rivalry has always been there. Will coming out with his all round style and Tommbie with his brutal smash mouth style. Of course Tommbie is no stranger to the technical stuff either which always surprises those who haven't seen him before.
It has to be noted how physical this match was. We have 2 big, strong and experienced guys giving it their all for the glory of winning this tournament and they did not disappoint. Will managed to pick up the win, and straight after I got to speak with him about it (interview is on Facebook) and Will said that he is willing to face Tommbie again any time he likes, also that he was glad we enjoyed the match, as he did not enjoy it as much as we all did. Well that stands to reason, if you get in there with Tommbie expect a pounding, from himself, or from Shelley 2 if you're really unlucky. With how Tom Lindsay's luck has been lately I'm expecting great things from his match with Will, nothing personal but I hope Will stomps him.
Next was the Women's championship match as Shauna Shay faced Victoria Adams. Tori has been dominant since beating Natalie Wild for the belt at Gain and Glory, but her attitude has changed since turning on Mr Richards and the CPW Galaxy. Shauna is the more experienced wrestler with more mat accolades, but Tori despite her age as has been stated before was trained by her dad, Thor, is surprisingly a good all rounder combining technical with strong style, peppered with aerial, speed and defensive.
Shauna had the upper hand for a good part of the match and her experience helped her out. Taking control with takedowns, wear downs and throw around, showing that she's not to be messed with, but Tori fought back with cheap tactics, as well as the DDT which almost knocked Shauna out. This lead on to Tori locking in the sleeper hold. It went to the hand drop, and upon the 3rd drop it looked like Shauna got her hand up before the count. However the bell rang. I have been informed that Shauna's fingers touched the mat before raising her arms. This resulted in the submission loss. This does not bode well for the Women's Division, Tori seems to be tearing through everyone she faces. To say that her run has been dominant so far and right off the bat in CPW would be an understatement, but that target on her back keeps getting bigger and bigger. The MMS and CPW champion The Beast get in the way of that target, but at this point it seems that Tori may not even need them at this point as she is holding her own very well. No one should underestimate her, the Valkyrie seems to be hear to stay.
Next we had the costume contest in the interval, judged by myself, Caitlyn James and special guest judge Jake Casanova. The children's costume contest was first. We had vampires, zombies (including a zombie Dale), and our winner in a fantastic Chucky costume. The kids all did the Floss dance from Fortnite as a way to show their costumes off. It's as good of a way to show them off as any really. Next was the adults which was more lively. We have most members of the chicken club taking part. CPW regulars Abbie and Melissa and even George's parents took part in the contest. The fly away winner was Kelly from the chicken club as Ursula. All 3 of us were blown away, well 2 of us were. Jake believed he should win the contest. I will admit and I said at the time, that Jake's costume was most accurate, mainly as he was just being himself. Anyone who got all the tats to look like Jake would be dedicated to a very suspect degree. We all celebrated by dancing to Jake's theme in the ring at the end, and I honestly thought the ring was in danger of coming down with all the jumping around, it became like a trampoline. However it didn't fall down and the show carried on without further interruptions.
Extra special congratulations to Phoebe and Kelly for winning their respective contests.
Also we had a little announcement to make regarding CPW. We got Mr Richards leading a group of men to the ring. Including myself. We are the Superstars Project Season 1 group. Starring myself- Frankie Summers, Khash Knight, Paul Lorenc, Jamie Hewitt, Harry Lord and Michael Kilbane. Of course that isn't all of us, we have 3 others who couldn't make it. We have Lucy Brown, Bobby George and Aaron Davies. We were put in front of the crowd to the approval of the audience. I must thank the CPW galaxy for the warm welcome for us all. We all have matches on November 10th in the same building in an exclusive 9 match card that's invite only.
Next was a single match in the 1st round of the ROTG tournament. This time it was Imperial Dragon against Stevie W. Stevie was scheduled to wrestle all along, but he was supposed to wrestle against the Iron Serb, however issues at immigration control stopped Serb from entering the UK, I assume he'd been pulled in for questioning and was denied entry after he said he was going to England to beat someone up.
Stevie used his charm and theatrics to get under the skin of the nasty lizard man. It semi worked as Dragon got annoyed, and Steve took advantage surprisingly, grappling with Dragon and actually taking him down once or twice. Dragon resorted to hard strikes and went to hit Steve with that savage vertical chop which hurts my chest just thinking about it. However Dragon poked Steve in the eyes instead. I had to go in the back to do an interview at this point so I didn't see most of the rest of the match, but what I can tell you is that Steve got the surprise victory, and advances in the tournament to face Fifi in the next round. So the final four is established going into the finals. Will Tom Lindsay turn his luck around, or is the Chosen One going to live up to his nickname? Will Stevie W pull off another shocker, or will Fifi dance his way to success? Only time will tell.
Speaking of wasp boy, the next match was between Tom Lindsay and Man Like Dereiss who we haven't seen since the Henley Green fun day, after defeating Alex Conners.
Tom as established has been on a losing streak lately, losing out to Mr Richards in the scramble match, also to Morris and Leyton Simms, how will this time go? Dereiss showed once again that he is one to watch in CPW, with his ability to get the crowd behind him and his all rounder style. Tom is probably the sternest test he's faced to this day, as Tom is a tricky and desperate man. Sure most of his venom has gone since losing the CPW belt, but his attitudes haven't changed. Still full of cheap tactics, fake outs and demoralising moves. None of this was enough however as Lindsay went for his pumphandle on multiple occasions, but this was avoided and Dereiss hit his finisher on Tom for a solid 3 count. It's a shame that this match wasn't for more than just pride and possibly ranking position, as any win over Tom Lindsay deserves some kind of reward.
Next was the Godiva Championship match between Morris and Isaac Quentin III.
Now Isaac is still unpinned and has never surrendered in any of his matches, all of his losses are by DQ or from a non involvement on a decision in multi man matches. He has still however been on a losing streak, he hasn't won since the Funday. He lost the Nextgen Championship after Morris was pinned by Alex Conners. He lost in the Scramble match at Get the Strap, after Mr Richards pinned Dan Evans. He was disqualified in his match with Fifi as well. Morris is the total opposite, having only lost twice since History, and both were in multi man matches. Big Eli, Dan Evans, Tom Lindsay and Anthony Mafia have all fallen before Morris in solo efforts. This had the makings of a classic.
Isaac resorted to his usual cheap moves, but Morris answered back with his brawling/power style. They brawled on the outside, they brawled in the ring, a very strike heavy match which surprises me from Isaac. Of course he has been going in this direction more since his rivalry with Will Starr, as they both threw out their great skills and resorted to beating the hell out of each other. What I remember from this match the most was the ending. It started how it's been going for a long time. Morris gaining a slight bit of distance, hitting the dropkick, then the splash in the corner, the suplex, running senton and pick up and hit the Stunner. There was a 2 count and that's it, but Morris then did something none of us expected. He exited the ring and came over to us and the desk, snatched his belt and called out, asking if we wanted him to smash Isaac with the belt. Some said yes, howling for blood, and the other half were begging him not to. Morris went for him and Isaac ducked, rolled out of the ring and snatched the mic from the desk, and said that he refused to be any part of this and got himself counted out.
I see his point this time, but I don't get what has come over Isaac lately. He's started bailing out of matches, getting himself disqualified and so on. It's almost like his head isn't in the game anymore. Before if he got desperate he'd either cheat or knock his opponent out. It's a mystery to me, but I can't figure out what is going on with him, but I won't ask, he won't tell.
Lastly was the bragging rights match, Academy vs Main Event. George vs Alex Conners. Not for a title this time, but George is still Academy Champ and Alex is still NextGen Champion. No gold on the line, but pride certainly was. George's family was in the audience, cheering him on and trying to heckle Alex, which worked it seems. Alex seems to has regressed as his bad temper gets the better of him quite often now, and he will go after people who abuse him. This was very prominent this time.
Alex opened up with grappling, using his strength and power to manhandle George. We saw all the staples, the pumphandle backbreaker, the fireman's swing into the knee, the running knee, and of course, the intimidation tactics, standing over, pushing and slapping, yelling at George the whole time, but George answered in kind with his quick clotheslines, high risk body blocks and that wonderful neckbreaker that he does. It came to a head when Alex signalled for the finish when a masked man came out from the back. Alex got distracted and George managed to get the jump on Alex and get him down for the three. The crowd exploded with cheers and rightly so, as George comes out with his biggest win of his career so far, and he still remains undefeated in CPW. This masked man revealed himself. It was none other than Danny O'Neil! He held up his golden ticket briefcase and made the motion that the NextGen belt will be next around his waist. This I can see as a possibility as no one has more wins over Alex Conners than Danny O'Neil, not that Alex doesn't have wins over him though, the most decisive being at History, even if it was a 4 on 2 situation. Either way if it does happen this will be a great match. I think we all want to see Danny come back and pluck this turkey.
So that was the end of the show, but a lot still looms over CPW right now. But the main one for me right now is the Superstars. Going on a personal note, this is one of the most anticipated things that I have ever done. I am extremely nervous about this as it is so close, but I am going to prove that the training has been all worth it, and I'm ready to take on whatever opponent is put in front of me. I'm not going to be the timid media personality that you see out on the shows. Something has awakened in me and it's time to turn that fire on the poor unfortunate soul that opposes me. There's someone in particular I want it to be…let's see who we get.
This is Frankie Summers signing off!