14th February 2020
Summers Gazette Special: The 2019 CPW Awards Show
The 2019 CPW Awards Show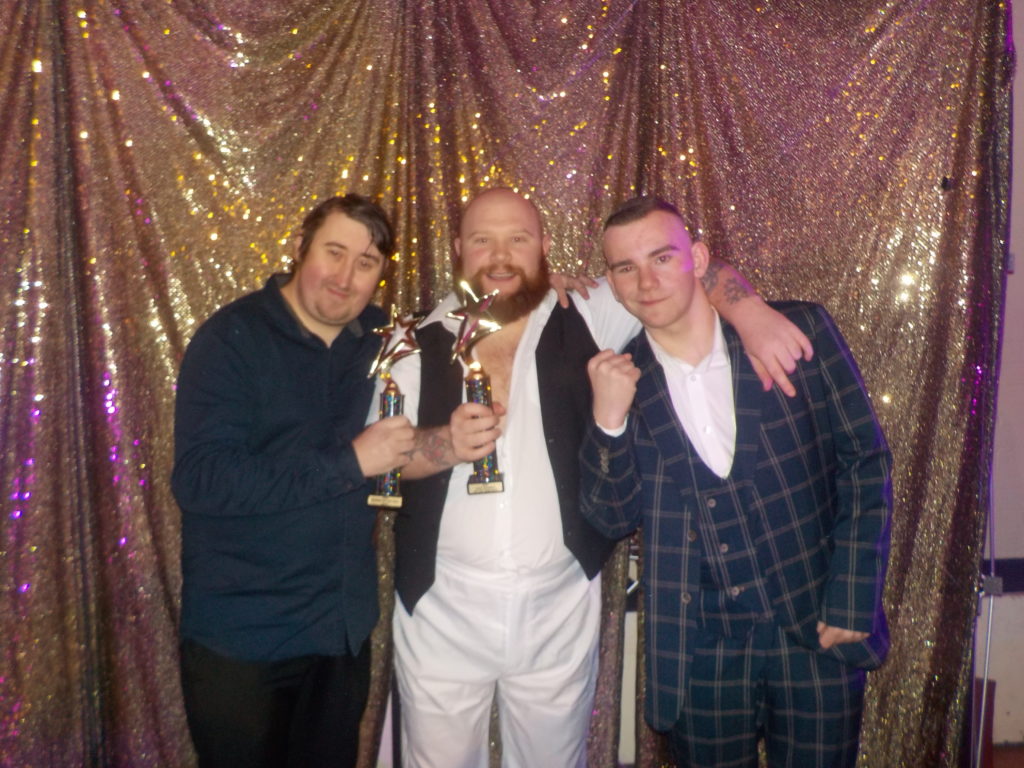 Hello, once again CPW Galaxy and welcome to this rundown of the CPW Awards show for 2019. CPW always has an awards presentation for its stars and fans and we have had various formats over the years. Last year we presented awards as the winners came to the ring for their matches and the year before we gave out a couple of awards each show early on in the year. This time we decided to make a proper night of it with a sit-down presentation like the Oscars. The CPW roster went all out with their outfits with a very dapper looking Mr Ace, Oddball Eightball, Morris and Ryan Conway in their sharp suits. Tommbie just needed a rose and he could have been a mysterious Spanish Goth gentleman. Will Starr dazzled us with his unique brand of fashion with his heeled boots, white jeans and lavish shirt. Nathan Lewis as he presented himself brought out his Saturday Night Fever suit which was unexpected. That's just the gents. The ladies impressed too with Lauren Holton's long black dress, Lucia Lee's black 2 piece number and Natalie Wild's sparkly purple top and leather pants combo, showing how we all have our own diverse fashion sense and the different personalities of the talents show this.

Team Madness are a bunch of rogues and we always dress to get the point across rather than impress. My style has changed a lot over the past year culminating in what you saw at this show. Going from a guy in a tee shirt and jeans to a jumper and jeans, then a suit, then a shirt and trousers with suspenders and various headwear. Bashby pulled out his blue-grey suit, Leyton got his grey suit, Dr Gage wore a tweed waistcoat and trousers combo with a white shirt and I wore what I usually wear. Black shirt and trousers with suspenders and we all had the matching cloth caps which have just gelled with us so well, along with a Crombie coat I've acquired.

I opened up the show by greeting the audience in attendance, consisting of most of our current CPW Roster and their friends and families on the other side of the room. I must apologise for the technical issues we had, we have a damaged volume control with our main speaker so we struggled to be heard, so it's lucky we have Team Madness who are loud and boisterous all the time.

After my intro, Team Madness opened up with a skit, which due to the technical issues didn't quite go to plan. The long and short of it was Bashby had told Leyton and Dr Gage that he was leaving to join a certain other place, and after a discussion about Rock, we convinced him to stay which led to us opening up the show with We Will Rock You from the stage musical of the same name, that classic Queen Song that gets all the feet stomping. So after the opening dance number, I'm sure we convinced Bashby to stay in CPW. Then we got to the show proper.

Our first award was for Referee of the year and for that, we had the Maestro, the man behind the music, Skinner, who gave a quick talk before presenting the award. The candidates for the award were Dale, Tango, Oddball and Chris Brice. The winner by a landslide was Dale who came up and graciously accepted his award.

Next segment was for the Breakout Star of the year for the up and coming talents in CPW who have made the biggest impression for the most improved of the year. This was presented by the man with no plan and a Yoga Roller, Mr Ace. We had some solid competitors here with Big Eli Conners for how far he has come over the past year, Lucia Lee for he unheard of conquest of the women's division and Mr Ace for his journey right to the top of the tree by becoming CPW Heavyweight Champion in record time. However, it was the Wrecking ball James Cross who picked up the statue and was very humble in winning it, which surprised me. He's renowned for being brash, but this isn't a competition environment, this was a team effort and a chance for everyone to kick back, relax and enjoy the show. It's not like James hasn't deserved the award. He was on a losing streak, but when he joined the G6 he managed to turn that around. He's been right near the top always being in the Nextgen title picture and he finally won it at the Super Secret Showdown with the help of Emma Cross. Now he is the benchmark and the target we all need to set our sights on in the New Blood Division, for best rookie year or most improved year, I will be jumping on this too as you can expect.
Next, we brought out CPW Women's Champion Lucia Lee, after Bashby tried to state his excitement in no uncertain terms about the Xmas Bash at the mention of a certain special guest wrestling at the show. Lucia inducted the wonderful Natalie Wild into the hall of fame for her contributions to CPW over the years, and for her time as CPW Lineal Women's champion.

After this, we came out again to talk about the CPW Superstars project and what it means to us. Dr Gage and I got our starts in CPW Season 1, myself wrestling with Tom Lindsay and Gage as Gage Rage, the lunatic who revealed he actually had a PhD and is a trained physician. We both came up with losing efforts with Gage getting himself disqualified and myself being rolled up and held down by my tights. How times have changed as we are rolling together with Leyton and Bashby, who was, of course, my opponent at Superstars 2. Gage's opponent was the current Nextgen Heavyweight champ James Cross as they fought for a Number 1 Contenders spot for the New Blood Championship, held at the time by Leyton Simms. I'll say what I said at the time. To me, Superstars is the ultimate opportunity for anyone who ever dreamed of being a wrestler, for anyone who ever wanted to step in that ring, be it a one-off or to try and kick start your career. It shows you the ins and outs and shows you how it works in the inside. You get to see all the work that goes into putting on a professional wrestling show, all the fine details and the communication we all have to have to make sure you get the top quality entertainment you expect every time we step through that curtain. This lead on to the awards ceremony for all of the members of Superstars Season 3, presented by Mr Saturday Night Fever Suit Nathan Lewis and the Chosen One, Will Starr.
These included awards for the Star Squad Ellie and Layla, Shawty, Crystal, Alex Spectre, Tornado (being accepted by Skinner), Taco (Accepted by Simon) and Mighty Morgan Morris who Will paid special tribute to for all of the effort he has put in during his time in training.
Onto the next segment Team Madness got all gooey over Will Starr (common occurrence) and called out for him wanting to see him again, but we were greeted with a "SORRY YOU'RE DEEEEEAD!" as Tommbie's music hit and we all hid behind each other as he tore through the curtain with a stern look on his face, before smiling and holding the curtain open for us to get through. Tommbie does have a charming smile when he shows it, but it's not often that happens. Tommbie was tasked with another HoF induction and this time it was the second time for the Merseyside Merc Squad. Last year they were inducted together, but individually. This time it was the tag team being inducted and Dan Evans took to the stage and poured his heart out in a way we'd not seen before with a heartfelt story of his time in CPW and how he considers us his main base promotion. Scott Oberman gave us a story as well, regaling us with his time in CPW. Even the infamous Windsor chant was not going to deter him. It is an honour that two such great competitors from so far away consider our little promotion to be their home away from home, and they have essentially been the over-arcing villains for the whole of the CPW story. Even looking back to the early days in 2014 at archive footage, Dan Evans is still there going head to head with Mr Richards. Congrats to the MMS and to Natalie Wild for their inductions into the Hall of Fame for 2019, in recognition of all of their efforts and the talent they bring with them into CPW.

To close off the first half, we saw all of these awards being handed out, and Team Madness wanted a piece of the action. So we took it upon ourselves to do the last Hall of Fame induction of the night and that was for the Hillbillies. Well one of them at least because Alex had other commitments that didn't include moonshining strangely. So we inducted our good friend Eli Conners who came up on stage to accept his trophy and give a speech about his tough journey in wrestling, as well as how he and Alex became the Hillbillies. The idea sounded absurd, but it works on so many levels and CPW wouldn't be the same without them, especially with one being good and one being bad, as it has made some quality tension and matches over the past year and it doesn't seem to be losing any pace. This led onto our break so the people could refill their glasses and come back to us all refreshed.

Now to end the interval we had a very special live performance of Jeff Buckley's Hallelujah, performed by Shannon Worwood, a devout member of the NBO Warriors. She was very shy about performing live, but Morris was very reassuring before she went out there. I didn't know you could sing so well Shannon and neither did the CPW Galaxy it seems as we were all very surprised. As Mr Richards would say, you smashed it. I'll also say the CPW locker are all very proud of you for taking that big step into a live performance in such a nerve-wracking environment.
Next was the presentation for the match of the year to open the second half of the show and to present the next award was none other than the main man Dale to run down the candidates. These included Eli Conners vs Alex Conners in Loser leaves Town (My personal favourite, not just because I took part in it). The Taker of Souls match, between Tommbie and the Conners Family. The City Boys against the MMS for the CPW Tag Team Championships, but the winner of the award was the match with the highest stakes of them all, the Unification Steel Cage match for the CPW Heavyweight and Lineal Championship between Mr Richards and Will Starr. Will came and accepted his award and talked about how he felt about the match and what an honour it all was, but brought it to the case in point. The main event of the Big Xmas Bash against Morris after in that every building, Will flung himself 15 feet off the balcony onto most of the CPW, the only ones still standing were Dale and myself (Thanks Tornado for your sacrifice) as the stakes build-up to the level that they were back at Elimination when he won the Unified Championship, but now it was master vs student in a clash of epic proportions, and Will was coming in with the lower momentum of the two. How would it pan out at the Bash?

Next was the award for CPW's Fans Female Wrestler of the year award and to present the award was CPW's 2-time fan of the year and our own Female's talent agent, Wes Handley who works tirelessly to bring more ladies into our already on fire women's division and he has brought in some fantastic talent with some coming for an occasional appearance and some who are now mainstays.
The award was presented to Lucia Lee who was extremely surprised at this and was a little speechless as shown in her speech. It's amazing how in the space of a year Lucia has gone from the shy, quiet and athletic girl to the absolute star killer she is now. The award was well deserved because I have never seen such fast progression for any competitor. To go from someone who had never stepped in the ring before to someone with the potential to be the longest-reigning Women's Champion in CPW History and the most decorated. Lucia's story may be short but it's action-packed and eventful and there's way more to come. Good on you Lucia, we look forward to more in 2020.
Next, before we could get to the next award, some music hit as we were all caught off guard by the Boss Lady herself Katie Smith came out as we all stood to attention, but when the music stopped she told us to be at ease but quickly U-Turned when she told us to do 20 sit-ups. We all got in position but poor Dr Gage found himself turtled and unable to move as Leyton and Bashby tried to help him. It was up to me to finish the challenge, while the other 3 were yelling at me to help. After finishing and nearly prolapsing my abdomen we got Gage up as we were dismissed so Katie could announce the next award for the CPW Roster's Male Wrestler of the Year. After much deliberation and the counting of votes, the CPW Roster decided that their wrestler of the year is Morris and why not? He's shown just how far he has come and how much he has grown as a talent in the past 18 months. He's proven himself to be a versatile competitor and very adaptable to any match situation against any opponent. Him losing used to be commonplace, now it's extremely rare he's beaten and the fans love it. Morris, not usually one for many words gave his speech of thanks before bringing it back to the big main event at the Bash himself, further raising tensions between he and Will Starr.

After this we brought it back to Katie Smith who hadn't been seen in a long time, there was a rumour established that she would be back for the Xmas Bash, which I, CPW's head reporter would get right on it to see if it was true. Our next award was for the Roster's Female Wrestler of the year, to be presented by Mr Saturday Night Fever again, Nathan Lewis who presented the award to Lucia Lee. Lucia reiterated what she said before and thanked the boys and girls in the back for the love and recognition received.

The next award was for CPW's OMG moment of the year where the roster and the fans voted for the most shocking moment of the year. This year was full of shockers that didn't even make the shortlist. Including the over the top aerial offence that led to all 4 men being down for a while in the Tag Team title match at History 6. Rene Dupree siding with G6, myself winning the CPW Galaxy Championship, Mr Ace becoming CPW Heavyweight champion. George Lydon smashing Eli Conners in the face with a baking tray during Loser leaves Town. Countless ones to make people grimace, or go into stunned silence and that's what these were. Will Starr flinging himself from the top of the Steel Cage driving his elbow into the heart of Mr Richards was such a nominee, Dominic Dewinter unveiling the G6 was another strong contender, but the winner was something that we could never have predicted would happen in the match it took place in. That was Mr Richards throwing Fifi through the concession stand hatch and bringing him out in a shopping trolley, immortalised in a wonderful photo of Mr Richards pushing the trolley and Fifi folded up in there, like the biggest bargain in the reduced shelves. A very worthy winner of the award.

Then we moved on to match of the year, a heavily contested award that everyone puts their all into every match to try and be nominated for a shot at this award. The key to this seems to be high risks, a moment that makes your jaw drop and high stakes. The matches that were nominated had all of these things. The winner was the absolute epitome of all of this with the highest stakes in CPW history to crown the first CPW Unified Champion. I, of course, refer to the Lineal CPW Prison match between Will Starr and Mr Richards in title for title. This match was an absolute barnstormer and an absolutely soul-rending experience for everyone watching. Being torn between two people you care about and love to see in action and kick the tails of bad guys week in and week out having to face each other over the biggest prize in the company, how could anything else stack up? It was a fantastic match and those who saw it witnessed pure magic.

Next, our Messiah returned (blasphemous I know, but it's in keeping) to give the award for CPW's Fan of the year as voted for by the roster. Wes Handley was odds on favourite to get the award for the 3rd year in a row, but this time, the winner was our Special Guest GM for the Big Xmas Bash, Lauren Holton. Appropriate enough that it be presented by her man Will Starr which was very sweet to see. Lauren talked of her time at the side of CPW and gave her thanks for how unexpected the award was. Lauren is always there for CPW and of course there for Will. She's thrown herself into training and has told the CPW News Crew that she will be entering into CPW Superstars Season 4 and we will be documenting as more people are revealed to be taking part in the project. Congrats Lauren, we look forward to seeing what surprises you bring us for the Bash.

Next, we had our final award, presented by Dominic Dewinter after he wiped the rubbish off him after the catastrophic loss of the G6 to the Wrestling Mafia which led to him being carted out in the shopping trolley and thrown into the back of the van and carted off. He was reportedly taken to the dump on London Road. He came to present the CPW Fan's Male Wrestler of the year, and that was presented, once again to the challenger for the CPW Lineal Heavyweight title, Morris. It seems public opinion is a popular opinion as we have all agreed that Morris is our top man of the year and once again, rightly so. I've already gone into detail as to why this is deserved and there is still room to go for Morris as he is yet to hit the big time. However, he is young, talented and experienced all rolled into one.

So that was the end of the show…or was it? We had a stage takeover by Will and Nathan once more as they brought their own trophies along to express their gratitude to a group of people whom without them CPW would not exist. Simon and Katie Morris, Dale and of course Mr Richards who has been running things from the back while he has been recovering from his knee surgery. We all cheered asking Mr Richards to come out to give a speech, which he certainly did, giving his thanks to everyone, in attendance and the back that make the whole CPW experience a reality. It was a heartfelt and emotional way to wrap up the ceremony and the boys of Team Madness, your hosts for the show wrapped it up. Bashby thanked everyone and wished the CPW galaxy a Merry Christmas and we get the order for everyone to stay for the disco afterwards and party their faces off.

Thank you to all who attended and joined in the disco afterwards. I've not partied that hard in years and it was a great chance for the boys and girls of CPW to let loose and have the fans along to join in the fun. Will Starr's dance moves have to be mentioned, with him dancing along to 'Crank Dat' which was awe inspiring. It was an extremely fun night and a great way to celebrate what we have done this year which has been just fantastic and I've been honoured to have been a part of it. These are the words of Mr Richards himself about it.

Take away the wrestling ring and what does a wrestling promotion really have with its fans? Well, tonight we learned that our bond with The CPW Galaxy goes beyond wrestling…

Big thank you to those who came out and were part of this truly magical night for all concerned. We have never had any desire to be one of many just the only one and we are. Very poignant and heartfelt and I couldn't have put it better myself, next entry will be for the Big Xmas Bash to close off this year and this decade.

For now, Frankie Summers is Signing off.