23rd March 2019
FRANKIE SUMMERS BLOG #17 – ELIMINATION
Escapes and Entrapment. CPW Elimination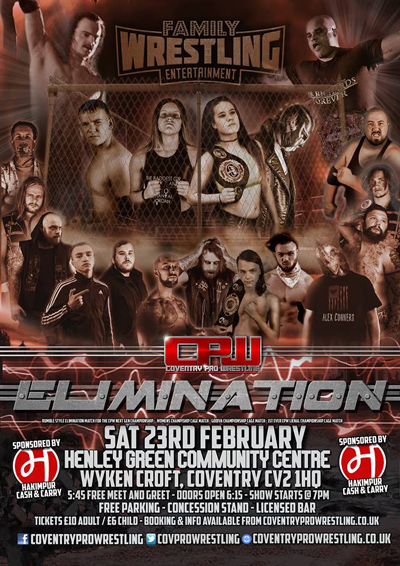 Hello there once again CPW Galaxy, it's time to give my own personal account of what happened for the show on 23rd of February at the Henley Green Community Centre, It's Elimination.
In front of a sold out crowd of around we witnessed one of the grandest spectacles in the history of CPW. We only had a 6 match card this time, but there was good reason for this. We had a Steel cage to put up in the interval which took a while, and 3 major matches happened in it, and we had the elimination rumble, which in itself took about half an hour start to finish including intros and the US National anthem. The cage itself took a while to put up, even with most of everyone on hand to help put it up. The matches in those cages took a bit longer than normal too. We had 2 singles matches before the Elimination rumble and the rumble itself to take up the first half. Only 2 championship matches this time, but Elimination was for a shot at the Nextgen title at the biggest show of the year, History VI. Whether it be against current champion Tommbie or whomever it may be at the time. We have a fair few shows between now and the end of June and this is CPW, anything can happen on any given show. We had 2 matches before the rumble. I was in the back and not at my broadcast position so I couldn't see what happened for these two following matches, but here they are in brief from what I have.
A 4 vs 4 tag team match as Iron Serb and his team of Bashby, Shaun Ruben and Isaac Quentin III took on Leyton Simms' team of Jake Casanova, Kevin Isaac and George. A very evenly matched team on paper, even if Team Simms were the underdogs here. Serb and Jake have the experience. Simms and Quentin had the power. Bashby and George had the youth and Shaun and Kevin have the intensity and skill. Leyton Simms' team won out in the end in impressive win against all 4 of their talented adversaries. Bashby with his well known record. Shaun Ruben who very rarely loses. Isaac Quentin III who is still yet to be pinned, and of course, the more than 10 year veteran that is the Iron Serb.
Next we had the Queen of the Galaxy tournament match between Natalie Wild and the returning Nightshade who hasn't been seen in a CPW ring since 2015. Some already say that Natalie is the Queen of CPW already and she is the favourite to win this one in the hearts of our fans. This faith must have kept Natalie's heart in the game as she managed to pick up the win over the powerhouse that is Nightshade. Natalie Wild advances in the QOTG Tournament.
So now was the big one, the main event of the first half and that was the Elimination Rumble with 20 men entering. 2 of these were unknown surprise entrants, but the other 18 we already knew as they were on the poster, including myself. So Mr Foley and Mr Dewinter opened up the proceedings and announced the first two entrants who would enter with music and ceremony like any other match.
So it opened up with the first announcement. The first entrant into the Elimination Rumble was James Cross. He came out to a cold reception from the fans, as is to be expected with his actions since his debut. He hasn't had the best of luck in competition, with no wins so far, but he sought to change his fortunes with a shot at number 1 contendership for the Nextgen Championship. Number 2 entrant was next, and it just happened to be me, Frankie Summers.
I do have to thank the CPW galaxy for the great response they gave me as always. It started out low when my music hit as a few realised it was me, then my name was announced to a few more cheers, and then they just popped when I came out and made my appearance. It really got me fired up. I knew that at this point I didn't know how long I would last, but I'd fight as hard as I could to make a loud and troublesome presence.
I got in the ring and the bell rang. James managed to get the audience to settle down, as he looked at me and asked "Ok Frankie, where's my actual opponent?" I simply told him "Alright Jimmy, your opponent…is ME!" Before hitting a forearm smash on him. He hit me with one back, and didn't like this situation, so he started beating me up in the corner. He got me on the ropes and Irish whipped me before hitting me with a clothesline. He hits those like he's a truck. A ton of force and it's all compressed into a compact area. I went down and nearly got the wind knocked out of me. Or so he thought. He didn't notice get up behind him while he was there grandstanding to the crowd. He turned around and I levelled him with a clothesline of my own, before hitting the ropes and walloping James with the discus clothesline. With him softened up I went for the kill and tried to get him out. He fought back and tried to get me out, and when it didn't happen he got me in the corner and beat me up more, then I switched it round. This repeated until Entrant Number 3 came in. Sir Isaac Quentin III.
Isaac was watching us beat eachother up and James noticed him laughing, while he was trying to kick my teeth in. He let me go and got up in his face, where I shortly followed. Isaac said we were both a joke and had no right being in the rumble. He looked like he was going to hit James, but suddenly he turned and swung for me, but my reflexes thankfully saved me. I caught his arm and smashed him in the face, he turned around and James did the same, this happened 3 times, until I yelled "TOGETHER NOW!" and we both whipped him off and went for a double clothesline, but Isaac ducked it and levelled both of us. Those muscles aren't all for show, he hits like a military vehicle too. James rolled out of the way, and Isaac tried to pick me up to throw me over the top, I'm there yelling and trying to grip on for dear life, when Isaac gave up, let me go and worked on James with kicks in the corner. He came back to me and stomped on my arm in the ropes. I was already worn out from struggling. I can see why he no one has ever beaten him straight up.
Then came entrant Number 4, and it was one of the surprise entrants. It was none other than the returning Niall Fairchild. The last time we saw him in action was the opening episode of CPW in February last year at the PC. In a match with Isaac Quentin III appropriately enough. Niall, in his time away has become bigger and buffer, he has even more tattoos and looks like an absolute machine now. I'm thankful he was on my side as he made the save again Isaac and got to work on him, as they exchanged blows as James and I caught our breath and stayed away from these two. James and I eventually crawled over to eachother and we tried once again to get eachother out, I got raked in the face and while blinded I stumbled into Niall in the corner, and because I broke Isaac's flow, he threw me out of the corner, as I then went to a different corner. The countdown started again as we all waited to see who would be next in.
At number 5 it was Doctor Gage. He immediately targeted James Cross as he came in. Isaac was annoyed even more so now as he now had 3 of the superstars division to deal with. The Good Doctor being the biggest and baddest we have. James went for Gage and tried for a shoulder tackle but Gage deflected him, sending him sprawling on the floor. Isaac in fury charged at Gage himself and the same result happened. Fancying a challenge, Niall tried his luck and was wiped out by Gage, which left me as the last one standing. Now I consider Doctor Gage as a good friend, but the chance was there. I knew the same thing would only happen to me so I charged and was inevitably taken out too. The flight was fun though, the landing not so much. So Gage was left standing tall at the end as the countdown started again. I struggled to my feet and the announcement was made.
Entering at Number 6 was Jake Casanova. We all took a step back as he came in, and all of a sudden it was party time in the rumble. We all got into the centre of the ring and danced with Jake. All except for Isaac. We all danced to the first part of the song, and not wanting him to feel unincluded, I went over to Isaac and coaxed him over. In the end he gave in and said he would dance with us. Stupidly I turned my back on him, he grabbed my hair, and charged with me as I was thrown out of the ring. I lay in a heap on the floor as the first one eliminated. I hit the apron in frustration and shambled to the back in frustration as the match carried on.
The other entrants in the were, Iron Serb, Kevin Isaac, Bashby, Leyton Simms, John Eastwood, Big Eli, Alex Conners, Shaun Ruben, Scott Oberman, Dan Evans, Fifi, Tango, George, and Big Bad Bob.
I wasn't there for the rest but here are some top moments.
Fifi slapping James Cross so hard it bloodied his nose.
Tango hitting the peoples elbow on Bashby.
The Deep South's rendition of the American National Anthem.
The return of Big Bad Bob and Niall Fairchild.
Iron Serb destroying everyone upon entering the ring.
Leyton Simms eliminating the Serb.
Kevin Isaac and George lasting as long as they did in a rumble with far bigger and more experienced guys.
The Merseyside Murder Squad coming in at 17 and 18 to the dismay of everyone.
The sudden reappearance of Tommbie who dealt with the Deep South there on the spot.
Shaun Ruben pulling number 20
Fifi and the MMS were the last ones out there and Fifi managed to dispose of both of them to win the Elimination Rumble will now go on to wrestle against the Nextgen Wrestling champion, whomever they be at History VI, and that could change at any time between now and the end of June.
With that in mind I left with my tail between my legs after being eliminated first. I could have given more first hand experience had I not been such a dunce and let my guard down around Sir Fancypants.
So during the interval, all of who was available came to the ring to help construct the 15ft high cage that we know as the CPW Prison. I have actually been informed that this is the incomplete version, as it has been made in a way that we can add extra to it. This I kind of do, and don't want to see at the same time, as this thing is barbaric enough as it is. But to see this structure at its most extreme will be a glorious sight for all of the sadists. However only a sadist or masochist would want to get into the thing to compete. Especially if it's going to have something extra like a lid put on it. But now it was time to kick off the second half of CPW Elimination. So I didn't take down notes at all this time. This is purely from memory, which is a bit hazy, but this is only 3 matches and I'll give you just quick highlights from each and my opinion of each one. Dominic Dewinter and John D Foley opened up the proceedings for the second half once again and as they were weary of this large steel structure, they decided that they needed a ringer to stand in there and brave such a monster as the CPW Prison. So they called out, myself.
I wearily made my way inside to take my part in the second half of the show. I addressed the crowd and apologised for my poor form in the match and gave the rundown for the first match which would be a singles match in the CPW Prison. One fall, one submission or escaping the cage to decide the winner. To be contested over a semi finals place in the CPW Queen of the Galaxy Tournament. The two combatants were Chantal Jordan in her second match in CPW and CPW Women's champion Victoria Adams, looking to add the new CPW Lineal Women's championship to her trophy cabinet.
In short this match was brutal. Kicks were exchanged, suplexes were exchanged, and Victoria locked in the sleeperhold and held it on so long that Chantal passed out. Chantal once again was denied her shot at glory in CPW. Out of the tournament and out of the title running. But I don't think that this will be the last that we hear from Chantal Jordan, as we bolster our ranks in the women's division with the additions of Luna Rox and Lucia Lee, along with the returns of Nightshade and Shauna Shay. We could have a full division again very soon. Not to mention some mainstays who come back to CPW now and again that are due a return soon.
The second Prison match was for the CPW Godiva Championship between the Imperial Dragon and Morris. Morris had some momentum coming into this match as he managed to slay the Dragon at Warfare, in a non-title match. He said he wanted to be absolutely sure he could take out the Dragon before stepping into the prison with him over that championship. I think they both wanted a hardcore match if Morris' call out video on Dragon was anything to go by, him tearing through that storage locker to get his hands on anything he could find. Dragon isn't above using weapons either as he has that Singapore Cane that he takes everywhere he goes.
The match again was also a brawl. I couldn't see the match very clearly from my vantage point, but I know that weapons were involved. Morris smacking Dragon with his own cane in a far more aggressive fashion than we are used to seeing. Sure, Morris is known for having a very visceral style, going to or through his opponents, but with an opponent like Dragon, you need that level of intensity as he is not an easy opponent to deal with. His height and build, experience, intensity and lack of regard for the rules make him one of the most dangerous people in CPW to deal with. The match was quite even throughout with Morris taking a Black Mass kick right to the face, and hitting back with his own Overdriver Combo with neither man giving an inch. However it all came to a head when Dragon spat green mist in the face of Morris and managed to escape the cage to win the match and retain the belt. The people were understandably annoyed by the result. Some were yelling cheat. However there wasn't a lot we could do about it in this case as they signed the waiver and the rule was that the match was No Disqualification. That's why we had the match take place in Prison in the first place. To throw rules, safety and foul play out of the window. To level the playing field between these two. So I can only apologise that it didn't go the way we all hoped, with Morris winning back that championship. I don't know what the future will bring, but that Dragon is one tough customer and won't be easily beaten.
Lastly we have what is potentially the biggest match in the history of CPW. The CPW Prison Unification match to become the Undisputed CPW Heavyweight Champion, to be fought under Lineal Rules. This was between the Chosen One Will Starr, and the King of the Jungle, the Forever Man of CPW, Mr Richards. This was as high stakes as it gets. The table was set. All the chips were down. One bet red, one bet black. Winner takes All. Where would that ball land on this big roulette wheel and where would all of those winnings go? The Prison would tell in due time. I have to say that personally this match was absolutely soul rending for me. To see my trainer, the man who has taught me most of what I know in that ring, and the man who I've looked up to as a father figure the past year trying to destroy each other over the two CPW Championship belts. Lineal rules means that leaving the cage means nothing. No winner from it, but it allows you to use the environment outside of the cage such as the floor, the side of the ring and the cage exterior. A pinfall or submission had to takeplace in the ring, inside that giant metal monster.
This match certainly did live up to the hype. The room was divided straight down the middle with the Chicken Club and the Wolf Pack picking their sides and their hero. For the most part this was just an out and out fight. Brawling from both of these big heavy hitters. Of course, Mr Richards is a trained boxer, so when it comes to brawling with him, you're going to lose. Exactly the same story when you try to outwrestle Will Starr, with his endless supply of mat skill. However, Mr Wrestling, as he is sometimes known didn't get a chance to really show off the skills he's known for and had to play to Mr Richards' plan. He held his own with strikes for a little while but the sheer power proved too much, especially after hitting the same big powerslam he hit on Fifi at Warfare. After seeing Will prone in the middle of the ring. He called out to Simon of the NBO Warriors, who supplied him with that same Sledgehammer that he used on Will back at Ruler of The Galaxy. After stalling and measuring Will up, Mr Richards walloped Will in the abdomen with the hammer and took him down. All this time, myself, Mr Foley and Mr Dewinter were outside and the ring talking over what was happening. Mr Foley said that Mr Dewinter had allowed this crazy situation go too far, and basically signed a warrant to let the two biggest stars in CPW attempt to kill each other. Mr Dewinter stood by his decision however as he had said before that Mr Richards had gone too far with his use of power within CPW.
Mr Foley looked in discontent watching the match progress, Mr Dewinter paced back and forth anxiously, and I sat at my perch watching the situation develop. As I said, it was soul rending seeing both men get more and more desperate and do more extreme moves. Mr Richards threw Will into the cage on multiple occasions, tying his arms up in the grid and pounding on his exposed back as the sound echoed throughout the Henley. It was outside that a chair came into play as well. Neither man would give up, even when submissions were brought into play. Late on, Mr Richards brought in the sledgehammer one more time, looking to smash Will's head like an egg, after working him over with the chair too. Dale grabbed the hammer and begged Mr Richards to stop, saying he was taking it too far. So he instead stood over Will and went for the chair. Will answered and with a burst of strength hit Mr Richards with the low blow, which got a very loud and mixed reaction. Will fired back and after a quick exchange hit the ropes and scored with the Spinning Wheel kick, which took Mr Richards down. Will got that second wind, that was just enough to get up and climb up to the top rope. He paused and looked up. He climbed up to the very top of the cage with shouting coming from all sides. Some yelling DO IT! Some yelling DON'T DO IT! I stand with both sides here. We wanted to see something crazy and extreme happen with this environment yet we don't want to see as I've said before, the two biggest stars in CPW try and end each other's careers, even if it's over the richest prize in the company.
Time seemed to freeze as Will leapt off the top of that cage and flew like an eagle for that 15ft foot ftrip off the top of the CPW Prison and smashed Mr Richards right in the heart with the Super Starr Elbow. The world seemed to stop, but came back when the crowd erupted with cheers in amazement of what just happened. Will was hurt and understandably so as he crawled over and covered Mr Richards and got the 3 count and the win. Will Starr is your new CPW Unifed champion. I jumped up and yelled out the result and nearly lost my voice in the process over just how emotionally draining this match was. Will got back up on top of the cage and lifted those belts high. He celebrated by bringing his girlfriend Lauren into the ring as they celebrate with an embrace in the centre of the ring, then did a slow lap around the ring where I was there to greet them at the end. Will then, once again got back into the ring and raised the belts one more time. It was a monumental occasion and at the end of it all I said to myself, is the war really over? For now it seems that it is, even if I don't quite believe it. For once, peace is upon CPW. We don't have a champion with an iron grip over the company and its competitors. We don't have a hideous rivalry for the belts with tons of demolition and carnage that will happen every week. It's an odd time for me being a journalist, as my bread and butter is the carnage going on at the top of the tree. Sure, it's all happening below, but that world title is the richest prize in any wrestling company. However, how long will it be before something else comes along to disrupt CPW and try to steal the championships away from Will Starr?
Will it be someone new? Will it be someone from the past? Will it be someone within our current roster who rises up to take their chances at becoming the new world champion? Only time will tell.
For now, this is Frankie Summers Signing off. We shall see you at the Hagard for Superstars 2 on March 9th!