27th December 2019
SUMMERS GAZETTE – CPW Superstars Project Season 3 Part Two
Summers Gazette CPW Superstars Project Season 3 Part 2
Greetings once more dear friends of the CPW Galaxy and welcome to this second half of the two-part blog breaking down the second event of Superstars Season 3, brought to you from the Hagard Centre in Willenhall, an old home for CPW that we always seem to be a place where we come back to for bigger shows. This was certainly a bigger show with the gravitas surrounding it and the number of debuts and returns on the cards and this was the perfect venue for it. Mr Richards and Leyton Simms were on commentary and the referees for the show were Chris Brice and Dale.

We had 8 matches this time and 3 of them were matches in the Quarter Finals of the Ruler of the Galaxy Tournament. Appropriately enough as our opening showcase that's what we had. We opened up as the Prince of Pineapples, Bashby took on the Aussie Nightmare Dingo in the 2nd Quarter Final Match in the tournament as our exhibition match that we always open Superstars with to show off what you can do if you join the CPW Academy and train hard enough.

Bashby is a young lad but is going into his 6th year of training and has been actively competing for 5. He's grown up in front of the CPW audiences and has only gotten better as time has gone by as he has adapted his style over time and proven that he doesn't need anyone's help to roll with the most dangerous opponents. Also as part of Team Madness, he has moral support from all 3 of us hat wearing loonies. This was as fast-paced as you'd expect from two slimmer and more sculpted athletes. Hard-hitting glass cannons smashing through each other in their biggest chance at glory yet, and after failing the Spear, Bashby hit a Claymore kick, a superkick and a Frog Splash to pick up the win and advance in the tournament. A huge win for Bashby as he storms on to the semi-finals to face either Apollo Vela or Dr Gage as would be determined later on.

Next, we had our first CPW Superstars project match as Alex Conners stepped into the ring to face the first of our Superstars entrants and that man was Ryan Conway. He competed against Dr Gage back at Super Secret Showdown in a losing effort and seemed to change his tune after being chokeslammed by Dr Gage. It's believed that Gage pulled him backstage and talked over his issues in a free appointment, then gave him some coffee and sent him on his way. He then seems to have changed his ways and decided suddenly that his a Rockstar. It's better than him being the delinquent he was before. It was power holds vs aerial ability and it was a fantastic match up.

I don't know if he landed on his head if he was slipped something or some other reason, but he's suddenly decided that he is a rockstar… I've not seen him play an instrument or sing but he assures me he can. That doesn't seem to matter however as he seems to have the makings of a great showman, getting the CPW Galaxy behind him with ease with his new look and new music.
This was hard-hitting just like the first match as the Trailer Park Messiah tried to drown out the cheers. It angered him in his usual fashion which led to an assault with those knees and backbreakers that we are so used to seeing from Alex. However with Ryan, we saw something new. Airborne Rockstar isn't just a nickname. Since his treatment, he has discovered that he has an affinity for high flying moves and one of his favourites is the springboard cross body press and he performed this with great poise and precision. It all seemed over when Alex went for the Pitchfork Driver and Ryan slipped out of it, and after dodging a clothesline he hit a handspring, bounced back and hit Alex with a cutter which flattened him for Ryan to get the big win and kick start his singles career.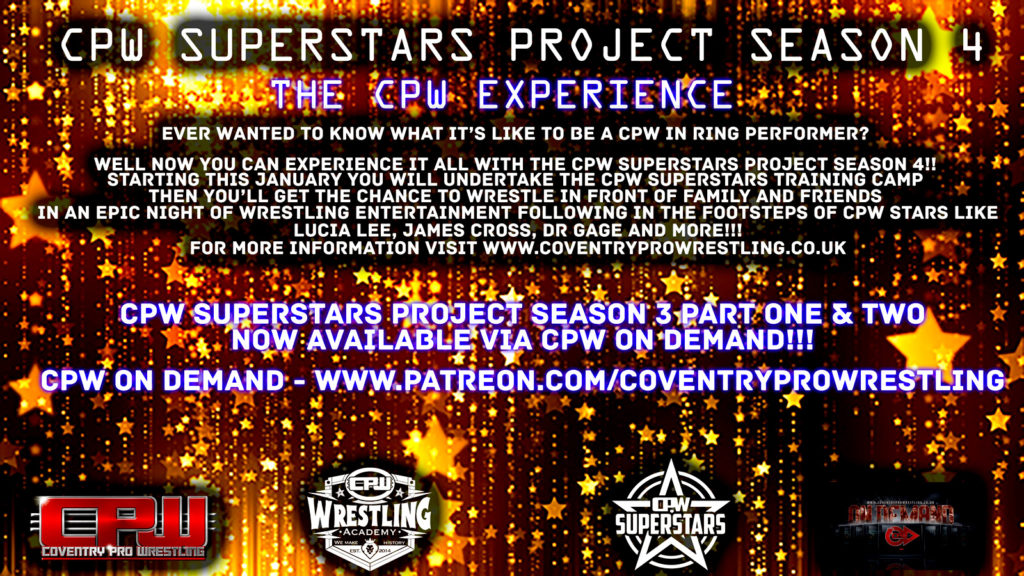 For our third match, we had the friendly Hillbilly Eli Conners and the masked vigilante, the SUPER one, Tornado taking on CPW Heavyweight Champion Mr Ace and his younger cousin Ziad Ace in the second of the Superstars Project 3 matches with a competitor on each team. Tornado is a mysterious one, but from what I've gathered he found out we had people bordering on being Supervillains in CPW and had no choice but to swoop in and lend a hand. Mr Ace decided to help out Ziad who is his younger cousin that has always loved wrestling and wanted to try and kickstart a family tradition, following in the footsteps of Mr Ace in the hopes to also get title glory one day. He's only young so he has plenty of time to do that.

Tornado blew through Mr Ace with his size advantage and some poses that instantly got the crowd behind him. Mr Ace tagged in Ziad and Eli was tagged in by Tornado who mowed through Ziad, with his size and experience coming into it. Ziad backed Eli into the corner which led to a double team. Mr Ace worked on Eli's leg after he missed a knee drop. Ziad was invited to make the pin but his inexperience showed as he tried to pin Eli the wrong way. Mr Ace came back in to continue working on him before Eli fought back and tagged Tornado in who blew through Ziad and Mr Ace with clotheslines. He tried to finish Ziad with the… I don't know Twister's Kiss? But Ziad countered and knocked him into Eli. Ziad went to tag Mr Ace but he turned his back on him, this opened it up for a double big splash which scored this new team the win. It was great to see and got the crowd buzzing for what may happen later. Tornado spun away and wasn't seen for the rest of the show and hasn't been seen since. I dare say when trouble's brewing, he will be back to sweep it away.

In the 3rd Quarter Final of the RotG tournament CPW New Blood Champion Jay J Roberts faced off with the Chosen One Will Starr in a rematch from earlier in the year where Will was almost screwed out of the CPW Lineal Heavyweight Championship, at the time when a certain deposed COO had a hand in trying to take the belt from Will. This was a classic between two top-flight competitors. Jay has shed a few pounds since his last visit and is starting to look great. I assume this was in prep for the match to help his endurance in there against the Lineal Heavyweight Champion. There is a real grudge between these two that has run hot since they first clashed. Will always has a plan to get by any competitor and has proven it with bigger guys in the past, but Jay J has always been a tricky one. It was personal and Jay J believes he should be holding the CPW Lineal Championship and this was his chance to prove it. Jay J called me out for the way I announce Will. The reason is simple, Will likes me and you don't, you also don't like the fans.

It was Power VS Speed and power won out for a good section of the match with Jay J raining down heavy clubs and chops on Will, reddening his chest very quickly. Will tried the speed and high-risk moves to chop down the Bearded Prince of Wales. Top and middle rope leaps with flying forearms, a leaping headlock takedown and a spinning wheel kick. However, despite this aerial assault, Jay J Roberts fought through it and steamrolled Will, taking him out with his favourite move, the Choke Bomb which gave him a decisive victory over the CPW Lineal Champion. He was elated and demanded the microphone from me. To not make the speakers give that horrid feedback sound when I walk with it to the ring, I switch it off. Most good guys like Morris, Will Starr, Mr Richards, Russell Hardwood and such all test the microphone, it seems to be the bad guys always grab it without checking first, then having made a fool of themselves blame me. Jay J called out Morgan Black, saying if he were there he would trounce him right there and then. Morgan's music hit and Jay J looked to the curtain, beckoning the challenge and Morgan ran through the crowd, asking them to not let on that he was there. The bell rang suddenly and in record time, Jay J was rolled up by Morgan for the 3 and Morgan got himself a first-class pimpmobile ride to the finals of the Ruler of the Galaxy in the biggest shot at glory he has had in CPW and that would be against either old rival Bashby or Apollo Vela depending on how the final Quarter goes. This led us comfortably to our interval.

We opened up the second half by introducing our next Nextgen General Manager, none other than Lauren Holton, who won the CPW management quiz to get her slot in the Management place. After a discussion in the ring, she revealed she will be managing the Big Xmas Bash and her ace in the hole for the show is bringing back former CPW Women's Champion Lana Austin to take on Lucia Lee in a barnstorming past vs present match that I am sure will be a potential show-stealer. I can't wait for this one to happen. More surprises to come as well I'm sure.

We opened the last Quarter Final Match in the RotG tournament as Apollo Vela took on Doctor Gage accompanied by Leyton Simms and Bashby in the biggest shot of glory in his career so far too, a chance to go to the top of the chain against the mysterious masked man. Vela got some cheers when he and Lucha Lucha hit their tag team finisher on Harry Taylor to the joy of everyone watching. Maybe he's not such a bad guy after all? Maybe he's not such a bad guy after all? This match was size and power vs size and agility. Gage using his power to smack at Vela and throw him around, but Vela used his experience to manoeuvre Gage and locking him in an armbar a couple of times which forced Gage to submit to the pain. Leyton Simms protested to get Vela off which eventually worked, but as Gage was hurt badly, holding his arm and injured shoulder which was in a bad way. Leyton was then put in the armbar himself on his injured shoulder he got back at Summerfest 5. Bashby and I piled in and after a flurry of punches, we got him off him. Bashby tried to go after Vela but Vela escaped which sets up the semi-finals match in the RotG tournament as either Apollo Vela or Bashby will face Morgan Black in the Finals. All exciting stuff and I personally can't wait to see Bashby kick Vela's head clean off his shoulders, I am supposed to be unbiased, but I just can't be here.

Next, we had another Superstars Project Match as referee crew member Oddball Eightball went one on one with Kevin Isaac. Both of these men have unusual tendencies in the way they behave. Both are tall and slim built and both are unpredictable with their offence, but Oddball focuses on trying to confuse his opponents while Isaac is savage and picks his opponents apart. One thing I will give Kevin is that after his loss at History, he never takes any opponent for granted, never lets his guard down and never goes easy on his opponents. This was a match of contrasting styles and was great fun to watch.

Next, we had another Superstars Project Match as referee crew member Oddball Eightball went one on one with Kevin Isaac. Both of these men have unusual tendencies in the way they behave. Both are tall and slim built and both are unpredictable with their offence, but Oddball focuses on trying to confuse his opponents while Isaac is savage and picks his opponents apart. One thing I will give Kevin is that after his loss at History, he never takes any opponent for granted, never lets his guard down and never goes easy on his opponents. This was a match of contrasting styles and was great fun to watch.

Oddball did manage to keep up with Kevin's aggressive grappling style but Kevin took advantage of what was given to him. Mostly working on Oddball's long legs, wrapping them around the posts and holding them in wear down moves before eventually Oddball eventually fought back, trying to put Kevin away with an Eat the Feet, but it only got a 2. Kevin put away Oddball with the submission which he could not break out of. It was a valiant effort but just not enough to get him by the Doctrine of Violence. It was a fantastic match and went up and down throughout, but it was a real shame to see Oddball lose after such a valiant effort, but he will be back I'm sure. He told me on a personal level he was just happy to go bell to bell and as long as he did with Kevin.

Our penultimate contest was the Number 1 contender Sugar Jimmy Vice taking on the CPW Heavyweight Champion Mr Ace who earlier on in the show had turned his back on Ziad after they lost the match to the Super Combo of Tornado and Eli Conners, blaming him for the loss. The Iron Serb came out with Mr Ace to cheer on 'his' Champion, which I feel was a nice gesture even if it felt like something more nefarious was behind it like he didn't trust Ace to be able to do the job.
They locked up strongly but Jimmy got the upper hand early. It seemed to be who could pose down the best in the early going, but after a criss-cross and great shows of agility neither one seemed to get the upper hand, but an exchange of arm drags, hip tosses and a side slam, Mr Ace got the upper hand and the fans behind him, even doing a Giant Swing to a prone Jimmy. Serb tried to keep his head in the game and a dizzy and dazed Jimmy managed to claw it back and teed off on Ace. After trying to choke Ace out on the ropes he hit a big slam, a pumphandle powerslam which only gave a 2, an opening was given with charges to the corner but Ace countered both. A big missile dropkick from Jimmy gave a 2 count but Ace kept fighting back. Jimmy hit the Sugar Bomb which usually signals the end but it also only got a 2. He called for the Slice n Vice but Ace countered with 2 clotheslines and a Rock Bottom which gave a 2 of his own. He went for an Ace-Cution which was countered and Ace was shoved into Dale who collapsed by the corner. Serb jumped in and they worked on Jimmy, then Serb pulled a lolly from his tights, tried to put it in Jimmy's mouth but got Ace instead. Jimmy struck back on Ace and hit the Slice n Vice before reviving Dale and getting the 3 count.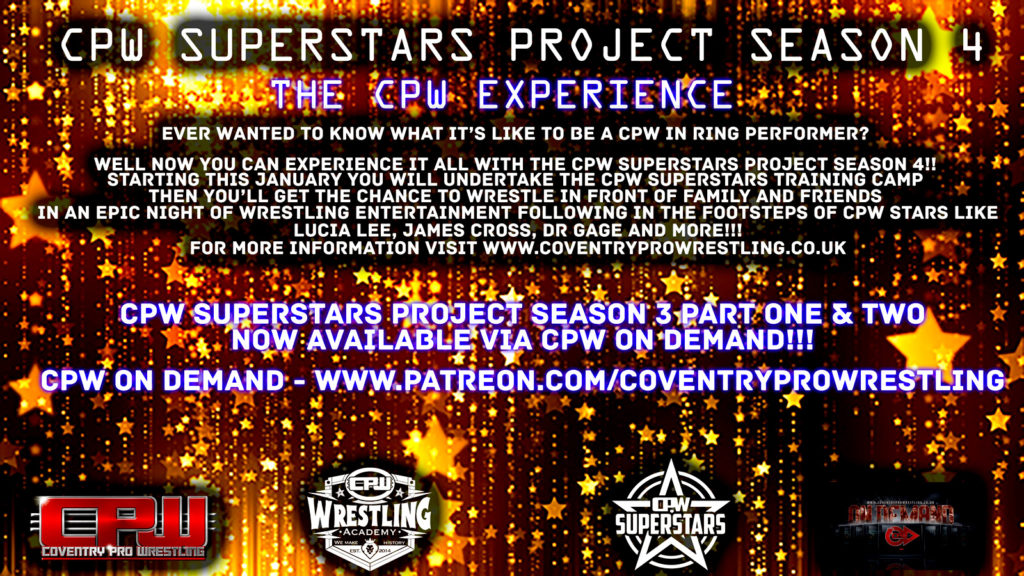 Jimmy Vice is your new CPW Heavyweight champion in a frantic match that ended in quite the controversy. Mr Ace held his own so well in there and despite all that has gone on, the fans have got behind him and seen that he's not just a show-off, or a coward or poser. He's a serious competitor who has come leaps and bounds in the past year. He has been given the stage and he has made the most of it, however, this was not appreciated by Iron Serb who got in the ring, seemingly to console his friend before pasting him in the middle of the ring. I jumped in to check on him but I was ordered out by Serb before I could do anything when he came back after going behind the curtain to look for a weapon. After a beating, Ziad came out and stood up to Serb who eventually went away after venting his feelings and leaving. Ziad helped Mr Ace up and they left the ring together. This was a spectacle to behold and was the biggest shock of the night. Mr Ace losing his belt but gaining the love of the fans. I think this will be two trucks going straight at each other in a clash you thought you'd never see if these two ever clash. I can't wait for that one, and you know who's side I'll be on.
We finished the show with a mixed tag team match as Lucia Lee and Morris, our Golden Ticket holders took on the team of Emma Cross in her second Superstars Project match and Nextgen Heavyweight Champion James Cross. James has been on top of his game since winning that championship and Emma was instrumental in helping him win it. They haven't endeared themselves to many in the process, but how could they when put against a super team like this? Morris, CPW's favourite son and Lucia Lee, who is fast becoming CPW's favourite daughter; on paper it looked like this would be a walkover for the team of Morris and Lucia but James has become trickier and more dangerous as time has gone by and he could use the rules of the match to his advantage.


The rules of mixed tag team matches in CPW are the same as old WWE mixed tag matches in the 80s and 90s. The men against the men and the women against the women. No mixing it up, of course, cheating can happen behind the ref's back but that's not part of an approved contest. It started strongly as Morris worked on James Cross, using his superior strength, but Emma positioned herself well so when the NBO Warrior got up a head of steam, he could tag out and kill all momentum by switching out with Emma and forcing Lucia to come in to fight her. Then when the same thing happened the other way, when Lucia got momentum and Emma tagged out to James. This was the story for most of the match with the frustration game playing for Morris and Lucia most of the time. This angered Morris to the point of trash-talking James before a pin attempt which was broken up by Emma. Lucia spilt outside to take out Emma while the boys rumbled in the ring. Morris went for an NBO drop to finish James but it didn't work ad James countered and locked in the Cross Face. Emma held Lucia at bay while James cranked back and made Morris pass out from air deprivation. Lucia was enraged as the Cross' left with their hands and heads held high. This was a big blow for both of them as Morris had to be checked by Dale and I. As he came to he was unsure where he was, so Lucia and Dale helped him to the back as we went to wrap up the show. I called out Will Starr to come and give the final talk and he brought out our beaten and bruised Superstars combatants. He also brought out Bashby and Morris and thanked them for all their help with the project which is well deserved.


That was the end of the show and the end of the Superstars Project Season 3 and everyone who took part put on a great performance that got the crowd doing. We have seen a diverse array of trainee wrestlers take the stage. We've seen a masked superhero and a painted ghost. We've seen a henchman, a Star Squad, a new Hillbilly who has also left the leader in the dust. We also saw a group of previous competitors who knocked it out of the ballpark once more. I've been quoted as saying "They smashed it" on CPW video reels but if I'm honest, it's far more than that, we have proved the doubters wrong again 2 weeks in a row, making this 4 times we've had a show comprised mainly of trainees, most of whom only had 9-10 weeks experience or had not been attending training for long and made a performance anyone could be proud of. I am certainly proud of everyone who took part in the project this time and while it felt strange to not be a part of it this time, it felt fitting to see the project in action from a different perspective. Sign-ups for Season 4 are well underway and if you feel you have the guts to get into our CPW ring, I highly recommend taking part in this project. Be it to settle a rivalry with someone you argued with at a show, to tick wrestling off your bucket list or to join the CPW ranks like the rest of the regulars and get your shot at the big time, then get on this programme, it will be starting early in the new year, details are on www.Coventryprowrestling.co.uk, book now to avoid disappointment and get trained by some of the best on the UK Indie scene right now.

CPW Superstars entrants have already been made champions in CPW and we only started the project a year ago. Lucia Lee being the big success story having held the Women's championship for around 6 months now and dominating the women's division. Mr Ace held the CPW Heavyweight championship with pride after winning the Fatal 4 Way match, ending Niall Fairchild's 100+ day reign. The newest addition to the class of Champions is James Cross having just beaten Fifi in a hardcore match for his Nextgen Heavyweight Championship at Super Secret Showdown 2. Which will now the be running name for any birthday shows we have. Lastly and the first Superstars competitor to win a championship was I, Frankie Summers winning the CPW Galaxy Championship from the Imperial Dragon who was easily at his most dangerous and dominant. I've been told that that match was the reason why one of our competitors for this time joined the programme. Dreams can come true and this programme is solid proof of this.

This has been a hectic few weeks and we will have a few more coming up as it is Christmas time, we will see you at the Xmas Tidings show on 7th December where we will have Dale as guest GM and we see the return of the demonic structure, the CPW Prison, that's at the Hagard in Willenhall. Then the week after on the 14th December at the Hagard we have our CPW Awards show which will include a disco and be a celebration of the year and the people who compete in our ring every other week and of course the fans who come to our shows. We couldn't do it without you, this is your moment. Then we wrap up the year with the 2nd biggest show of the year and my personal favourite, the Big Xmas Bash. Presented by Lauren Holton we will have a match between Lucia Lee as she defends her CPW Women's championship against former Women's Champion and national wrestling star Lana Austin. Also that main event between Will Starr and Morris for the CPW Lineal Heavyweight Championship. I said before the match would be Icospheric in a previous video package. What I meant to say was Ionospheric, but that wouldn't have covered it either, so after research I can confidently say the match will be Mesospheric, with the magnitude of what has happened leading up to it and how both of these men will seemingly be out to tear each other's heads off as well as fight over the title. We will have plenty of surprises, and tons of action to finish off this fantastic year of CPW.
Now after a week of reprieve and rest, we are ready for 3 action-packed weeks of CPW to wrap it up and see us into Christmas. I will be there to call the action as always and look forward to every second. For now, this is Frankie Summers signing off, we will see you again at the Hagard!