8th August 2018
FRANKIE SUMMERS – BLOG #6 Media day in Birmingham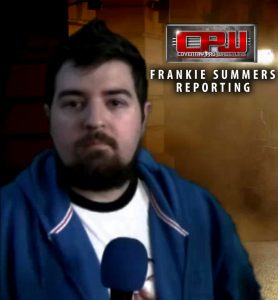 CPW Blog Entry #6
July 21st 2018, CPW joined forces with journalist 'Brit Wrestling Fan' Tom Baker and the Oasis Market stall Pro Wrestling Cartel and the UK Wrestling Cosplay group to put on the Wrestling Fun Day. It featured NBW star Corey Johnson too, who has wrestled in CPW before and was meant to feature at History 5, but sadly didn't due to his opponent Karl Cook being injured. So we announced our bit to start at 1, but we had to start later due to a logistics issue, but it didn't matter as fans patiently waited to try out some bumps with our boys. Out of the roster, there was myself and Dominic DeWinter from the non wrestling part and Mr Richards, Will Starr, Fifi, Morris and Leyton Simms from the roster. We were there with the fans, showing them a few of our moves and how to do them.
I managed to conduct a couple of interviews during this, so keep an eye out for those, one with Mr Richards which I had a lot of fun doing. Also one with Tom Baker from Best of the British Indies, who I hope I will get to work with again at some point, maybe on a podcast entry or something. We talked about what got him into the industry, and who he'd love to see come into CPW for matches. You'll be able to see those very soon. I also got one with Will Starr, all done in an excellent location I have to say, in the deserted corner at the main entrance to the market. I got 3 good interviews with 3 great personalities and even I have given my two cents during them as I do here. Tom managed to do an interview with Dan Evans and Natalie Wild, so he did pretty well in getting them both to talk to him, we all know what happened when I tried to interview the Murder Squad.
There is something however that happened at this event that I have to address and it has rubbed us all the wrong way. It's an appearance from a man who has been running his mouth on social media an awful lot. It was the Beast. I must thank Corey Johnson for being so quick in getting his phone to capture this for us. Beast came along, looked at the merch and made insults about everyone on the roster be they a good guy or a bad guy. Then he made his presence known by going straight for what he wanted. Mr Richards and his CPW championship. He immediately called him out and essentially called him weak for only being able to swat the wasp that is Tom Lindsay. I, who saw the match from the front row was called in to give my two cents. I said all that needed to be said. Mr Richards and Tom Lindsay beat the living crap out of eachother and noone can argue with that, the match was brutal and both men came out with beatings that took weeks to recover from. He told me that it didn't tell him much. Of course I responded that he should actually read my blog, or better yet watch the matches that CPW put on.
This escalated and Fifi was dragged into it as well, considering the record those two have. Fifi has a win over Beast in a Triple Threat match and Beast has a win over Fifi in that infamous strap match. Those are only 2 of the 3 matches I've ever seen Beast in, the last was between Destination History and Road to History at Nextgen, and it was a DQ finish where he lost to Danny O'Neil by attacking him with the Golden Ticket Briefcase. That's about 6 months I've been watching CPW shows and you've wrestled 3 times, Beast and you've only ever won once out of all of them, yet you have the audacity to challenge for a championship. You've not been relevant since last year, and the last title you went after you couldn't win. I will admit you're big and imposing and I will admit brave for what your next request was. You wanted a handicap match with Fifi and Morris. You may have beaten both of these guys before, but Morris has improved a hell of a lot since you last faced him, and Fifi has added some moves to his arsenal too. I don't know what you've been doing since, but I hope it's training and working on new moves.
At the fun day at Henley Green, Morris managed to beat Eli Conners after hitting him with the wasteland, and last time I checked, you and big Eli weigh about the same. It'll only take Morris to pick you up and slam you down Beast, but how many people will it take to get you back up when you fall? So at the first episode of CPW Season 6, we will see this handicap match between the Beast and Fifi and Morris. If he wins, he will get a shot at Mr Richards and the championship.
He went away after a while thankfully and left us alone. He was lucky as there were a few of us there who would have gladly dealt with him had he tried anything, if not there were at least 4 security guards who would have thrown you out in a moment. I wasn't aware of this until after, but I helped Fifi with his suitcase with his gear in it to the van at the loading bay. After we said goodbye I went back up to the Cartel store. During that time Leyton Simms ambushed Fifi and attacked him with a traffic cone, through him into a cage trolley and threw him into a sidewall. I know that you were annoyed by Fifi beating you at a previous show, Simms, but this cowardly back fighting is not on, if you want something like that, ask for another match, make it No DQ, if you care about beatings that much. Let's hope he's got this out of his system either way.
It's onto Summerfest 3 on the 25th August at the Saracens club at Binley, so please keep an eye out for the info for those, I shall be there for both, observing and watching the action and noting the action.
We shall see you there.
This is Frankie Summers signing off.