13th April 2019
FRANKIE SUMMERS BLOG – GLORY SPECIAL
Now for something different, a very special kind of Blog Entry.
I'm doing this in more of a relaxed style as this isn't a CPW Show. It's my first ever Theatrical review. I've reviewed video games and movies before, but this is my first time reviewing an independent stage show. I've seen other shows like Cats, American Idiot, Blood Brothers, Welcome to Thebes and a couple of others. This was the first time seeing a production like this however. So on 10th April at the Belgrade Theatre, a good chuck of the CPW Roster went to the show premiere. Us being there in the group we were in, felt to me a lot like we were on a school trip, with our teachers Mr Richards and Mr Dewinter looking after us all, making sure we don't misbehave. We found out about the show after the production team reached out to us, to see if it would be something we would be interested in. Of course we leapt at the opportunity to head down on opening night.
Never wanting to disappoint we went there as a group of 25 in all and waited in anticipation for the show to start. We didn't know what to expect. We saw by the trailer that it seemed to be a light hearted look at the wrestling business, with comedy and perhaps a hero's journey kind of story, akin to Rocky maybe. In a way that's kind of what it was, but light hearted is definitely not the tone the show was going for.
We were at Stage B2 which is a smaller stage. The set was a shabby looking wrestling ring, some banners, some rusty lockers, and that was it. It had a nice run down and grimy, gritty, but real look to it. The set really did suit the smaller stage. It felt more intimate. It did feel perfect for an actual wrestling show as well, I believe.
The whole plot revolves around Jim getting an offer from an American promoter for a try out spot to wrestle for their company. The reward for being picked successfully would be a £5000 signing on fee. to join the promotion or use however they please. Question is, who would represent Glory's Gym?
The show stars Ben, a young, buff man who was just looking for somewhere quiet to train. He remarks on how bad the place looks, and is greeted by the eccentric former British Wrestling great, Jim 'Glorious' Glory, the owner of Glory's Gym. Then the third character comes in, Dan Huang, who is Jim's protégé. Later on they are joined by Sami, a refugee who was a champion amateur wrestler in his home nation. There are only 5 characters in the whole show (the 5th comes at the end), but they all play their parts so well.
There's subtle nuances as well that you'll have to keep an eye out for, use of plot devices and such that are cleverly done. The chemistry is there and they are all their distinct people. Ben being the strong, protective type. Jim being the fast talking showman, Dan being the 'out there' effervescent type who just wants a chance to be loved by the crowd, and Sami is the quiet type who just wants to practice his craft and for everyone to just get along.
The whole premise of the play is about racial and cultural differences of people in a multi ethnic society like Britain, and from the off, Ben, Dan and Sami do not get along. I must warn you if you are offended by racism or racial slurs, please exercise caution. The insults come thick and fast from everyone, apart from Sami. There's a lot of swearing as well. So please be weary if you're wanting to take the family.
The story is incredibly deep as you see the dark pasts of all of the characters, and how all of them are tragic figures in their own way. All victims of needless persecution, involved in conflicts and experiences that could break someone mentally. It was relatable to every one of us in CPW, as we all have a reason to fight. We all have dark pasts and things that we hide from the public eye. Negative events that shape who we are and what we become. That's not just for wrestlers. That's for anyone. It also makes you remember that you should be careful who you insult, as you never know what a stranger has been through.
The piece of course isn't just about race relations. It focuses on modern conflicts globally as well as personal demons. That's what this is, it's wrestling with your own demons, to overcome it and become a better and more empathetic person in the end, and considering the suffering of others. But it also shows how society has evolved and adjusted over the years, showing that anyone can be a hero, regardless.
Watching the whole thing it really does put it into perspective of how people in the past, were openly abusive to Black and Chinese immigrants because it was the trendy thing to do. It moves on with how people from the middle east are abused today. Even if not in as grand scale as it used to be. The piece itself is quite timeless with the only indicators that it is taking place in the modern day is the discussion of recent topical world issues, and that Jim has a mobile phone, otherwise it could easily have been set in the 70s. Especially with the use of language and insults. Words that you thankfully just don't hear any more in media or in public.
Now what the CPW Galaxy want to know is how it stands up in terms of the wrestling. It's not just me who said this, but how our sport was portrayed was done with respect and dignity. It's a very interesting topic to base a story like this around, and it shows how people can be good guys and bad guys in real life, sometimes in ways beyond their control. Guilt by association and such. The wrestling action itself evolved as the show went on and it all culminated with a brilliant 5 minute match that was well put together, and we ditched the concept of usual theatre etiquette and let our inner wrestling fans come out.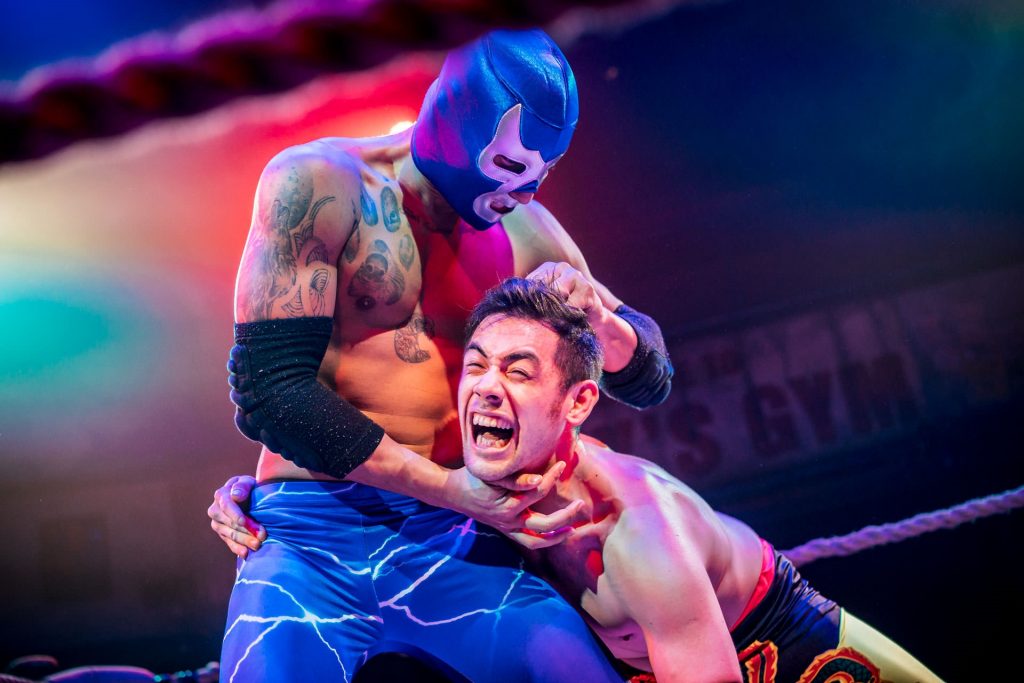 I think that Ben, Sami and Dan all have great potential as wrestlers and I'm sure we would love to cross paths with them again. Their character and crowd work was good. The moves were well done, and you can tell that the character of Jim has that air about him, especially with the grappling moves he does. He was thoroughly enjoyable and had multiple uninterrupted monologues that were pulled off flawlessly. He really wouldn't have looked out of place on an old episode of World of Sport in the 70s or 80s for sure. He even gets some nice crowd riffing in there too which I enjoyed. I won't go into the characters any further as it's best to experience it for yourself and all they've been through. Discount on tickets available on the pinned post at the top of the CPW Facebook page, where there is a promo code.
We got a couple of big group photos after the show and they are on the CPW page now too. The show is running until the beginning of next week so I highly recommend that you go and see it. If you love wrestling or just want something different to see at the theatre, that is thought invoking, emotional, comedic and hard hitting. Everything a wrestling match/show needs to be. It's a slow burn, but it builds great suspense. It's a show that needs to be seen and needs to have more wrestling fans going to it. So please, if you can make it, go and see one of the performances and support these men. It's running until 13th April. You'll laugh, you'll feel deeply emotional and you'll want to cheer your face off.
This show gets our CPW Seal of Approval.