27th December 2019
SUMMERS GAZETTE – CPW Superstars Project Season 3 Part One Edition
Summers Gazette CPW Superstars Project Season 3 Edition Part 1
Hello once again CPW Galaxy, Frankie Summers reporting with this, the break down of the 8 match part 1 of this 2 part Superstars Show where our Superstars entrance make their big entrance into the world of Pro Wrestling. We've knocked it out of the park on 2 previous occasions, including our massive 14 match show at the Hagard back in March. This time because we have the Ruler of the Galaxy Tournament to run as well like we did last year, we've incorporated those matches into our opening exhibition contests for the year.
Myself and Leyton Simms were running the festivities this time, as Leyton was desperate to be a part of the Superstars somehow, and he has taken a liking to the ring announcing since starting out with me at F U back in October, and at Super Secret Showdown last week. We had a crowd of 130 people all coming to cheer on their respective people, some selling out entire rows which is always pleasing to see.
We started off with said exhibition match as all the way from Sweet City, we got Morgan Black taking on the current CPW Galaxy Champion Drake Wynter for a place in the Semi finals in the Ruler of the Galaxy Tournament for 2019. Morgan really got the crowd behind him in a big way, firing them up with reactions we've not had so loud in a long time. They really got under the skin of Drake who tried to get the crowd behind him, after insulting them, no less. He was going to walk out at one point, but he came back and they had a hard hitting big man match, no less than what you'd expect from these two bruisers. It all came to a head when Drake tried to charge Morgan in the corner that leapt over and got Drake with the roll up and advanced onto the semi finals to get his shot at glory, ending a losing streak of nearly 2 years in the process. It was a well fought win and we possibly have a strong contender for the Galaxy title as we have an angry and disgruntled Emperor who has been knocked down a peg.
Next we had the first Superstars contest as Tango in his big in ring return as he took on Russell Hardwood. His last match was teaming up with Stevie W and George Lydon at Superstars 1 to take on the MMS in a losing effort. Since then he has been coming to training for a year and practicing his ring work while refereeing. Russell wanted to see how much he's learned since he last stepped in there. Russell came in first and made a move on Charlie's mum, Abi, getting her to rub the baby oil all over his chest. He got in the ring and sprayed me with the bottle and kissed me which had a delayed effect as I was knocked off my feet by the power of his aftershave.
Tango came out to a great response from the crowd. It's nice to see him be appreciated not just as a referee but as an in ring talent too. He was all about the action this time as the whole match, Russell was trying to mess around with Tango and throw him off his game plan, including grinding on him before attempting a full nelson which Tango broke out of. Tango showed his prowess by hitting that I'm calling a Soda Pop Suplex, a variation of the Tear Drop suplex but Russell kicked out of it. Russell was distracted at one point which allowed Tango to jump up from behind to get the roll up to pick up the win. The pair celebrated together at the end and shook hands in a sign of sportsmanship which is really lovely to see. It doesn't happen often which makes it all the more special when it does.
So we move onto the next match, a tag team match as CPW Superstars entrant Logan Daniel made his debut to team up with Kevin Isaac as they took on the team of the Natural Niall Fairchild and fellow CPW Superstars Entrant Alex Spectre. Kevin hired Logan as beef to help with his Doctrine of Violence. Alex is another Phantom of CPW it seems. A mysterious man with face paint on part of his face and little known about his history. This was a match that has seemingly already established a rivalry with two similar newcomers. Both of similar size and build and of course, similar levels of experience. I think both of these young men held their own very well against our CPW veterans. Logan did manage to go power for power with Niall for a while which has shocked all of us. Niall got worked over by this vicious pair for a while with Logan going in with fast knees and clubbing forearms to keep Niall doubled over and aching. After Logan had a miscommunication with Kevin he missed a move with gave Niall the opening to get Spectre in there to clear house. Lastly Niall was tagged in again and he hit the Natural Disaster on Logan and went for the pin, but he said "No, it's about this guy!" and tagged in Alex who got the pin as Niall held Kevin back. It was a thrilling performance and a great display of the talent of the two beefy hosses who have joined the programme and let's hope they carry on and one day be able to face eachother head on.
We wrapped up the second half with 2 huge favourites as the Little Rascal Charlie teamed up with old rival Bashby to take on the Wrecking Ball James Cross and another newcomer, Rydog. Rydog has been training for a while with CPW, and Will recommended he jump on the Superstars Programme to give him a push through training, to get in the ring sooner. It seems though he has been misguided as James Cross, seeing a young man similar to himself offered his hand of guidance to coach him his way and as a result he has been adopted into the Cross Family it seems. Charlie has been working super hard since coming back to CPW, he attends every session of Superstars training and has been helping everyone out with the basics if they are struggling and it's lovely to see.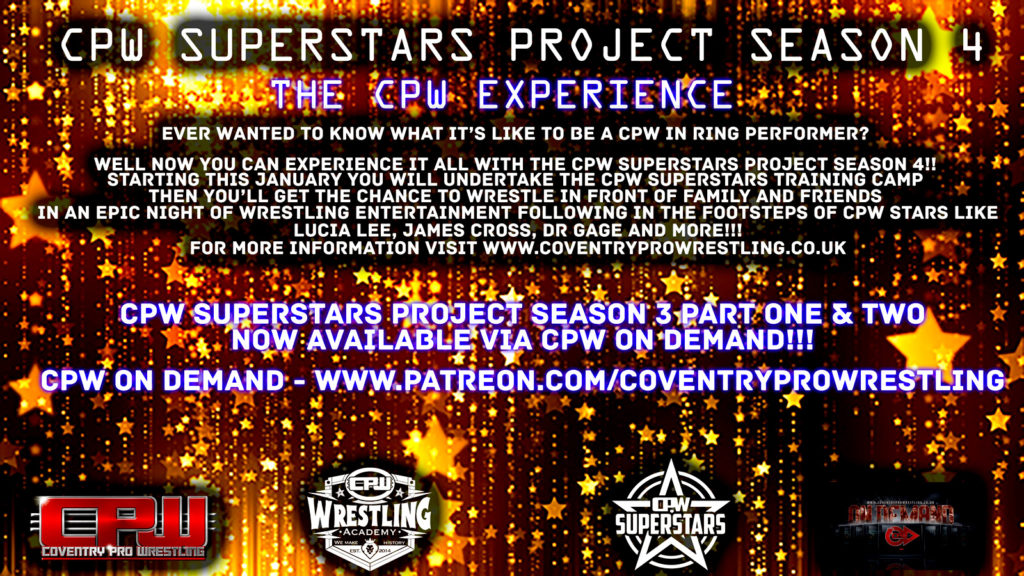 Rydog proved early on that just like his mentor, he hits hard and fast and can take down taller opponents with ease. Charlie showed that he has been sticking with it and been learning more advanced moves, like the rolling arm drag. Bashby even fell victim to a big shoulder charge from Rydog on a couple of occasions which his family loved. James was barking orders throughout the match at Rydog, which did work for some part, but in the end, like the last one, master and student miscommunication lead to James being thrown out, Bashby taking down Rydog and Charlie hitting a Rascal's Elbow to get the pin for 3 and Charlie remains undefeated in CPW and the crowd went nuts and rightly so. James Cross was so angry that he stormed out, yelling at Rydog and almost left his championship behind. Rydog took it from me as they hustled to the back. Rydog, I'm going to be serious for a moment. I say this as a friend and as someone who you've been a fan of, someone you look up to and has assisted you at training for a while. James Cross is bad news and siding with him won't be favourable. I don't know what he said to you afterwards, but you don't have to take his cruelty. We all saw what he did to Harry Taylor in the corridor after the show and we don't want it to happen to you too.
This lead to the interval with a short break and rest from the action. When we came back we had had the 6 man tag team match that a certain section of the crowd were really hyped to see. It had Morris, Mighty Morgan Morris (that's Triple M to his friends) and the mysterious luchador Taco, both of which debuting under the Superstars Project 3, taking on 2 other Luchadors in Lucha Lucha, Apollo Vela and Harry Taylor. The Mexican team wanted Harry to put on a mask as well to be more inkeeping with their look, but he disagreed with the look and just wore his hat instead. I don't think this pleased them. The Morris Crew came out with and entourage following them with Sombreros, Spanish flags and Triple M throw out small bags of sweets to the fans as he went by which was a lovely and unexpected act of generosity that the fans appreciated.
Surprisingly the Lucha cousins just wanted to wrestle. Harry showed his usual uncaring attitude, which doesn't exactly endear him to the fans, but it got him a spinning back fist from Triple M for his troubles. Morris has taken a lot of lessons from his older brother and fights with a similar style with brawling and power tactics. Taco brawls a bit, but focuses high impact on high flying moves. It ended with Lucha Lucha and Harry have been cast from the ring and while Morgan and Morris made sure they didn't get back in, Taco jumped up to the top rope and hit a massive moonsault which came down with the force of a meteor it seems. The crowd leapt from their seats as the Morris family posed for the win as Taco got the pin. It was a fantastic showing by the newcomers and a great choice of match. Harry came into the ring with a face of thunder, yelling at Lucha and Apollo for costing him the match. They turned on him and planted him with the same double team Codebreaker that they used to try and put away Morris. They shook hands with the Morris Crew and left applauding. I certainly enjoyed that match and so did the fans, great showing by everyone.
Next we moved onto the Women's Golden Ticket match as Shawty made her debut against former CPW Women's champion Sarah Skylark and the current Women's Champion Lucia Lee. The winner of the ticket would get a shot at either Lucia Lee (for the other two girls) or Natalie Wild and her Lineal Women's title (Any one of them eligible for that). The stakes were high going into this. Shawty joined the programme after being a fan for a long time, and having a prior association with another former member of the Superstars roster. Now having made her own way she has joined us to give it a crack herself, and her fantastic potential has wrangled her this chance.
It was a fast paced and hard hitting match throughout between all 3 girls. Sarah hasn't lost any of her edge with the fans and making them hate her. Shawty had her fans cheering for her in the crowd and she was clearly the fan favourite in the match. Lucia got quite a cold response in this one and I think it got to her because the fans wanted the plucky newcomer to come out on top. It wouldn't have been the first time someone won an accolade on their debut in CPW, so it is a possibility that wasn't unheard of. It ended in a surprising way after Shawty hit a top rope cross body block on Sarah and went for the pin, but Lucia dragged her off, threw her out and stole the pin for herself in quite a devious move. It does show that Lucia isn't all sweetness and light and she does have her darker side. Some of the fans were ecstatic at this result and others were disappointed. It may lead to a singles match down the road between those two ladies and it will be explosive, guaranteed.
Penultimately, we had a singles match between George and Rob Conflict. Rob (he doesn't like being called Robbie he tells me) made an impressive showing in his debut last year, taking on former Triple Crown winner Jake Casanova and beating him in his first attempt, albeit in controversial fashion. He has been away from CPW for the past year because he left to pursue an acting career and after he couldn't find more than a background spot in a Pinewood production that only paid his rent for a week he's come back to CPW to chase his other dream of becoming the best here. It was a fast paced and action packed match with good displays of agility from both men and that great power display from Rob. George usually tears through most opponents but he struggled a bit with the powerhouse Conflict. It ended when George went for the Ripcord Codebreaker but Rob ducked and countered it, reversing it into a Skull Crushing Finale, picking up the victory, Rob Conflict remains undefeated in CPW. It was a great performance by both men and once again Rob Conflict pulls through and against the fastest rising star in CPW no less. This man, if he stays with CPW and carries on, I'm sure he will be a dangerous competitor to face and will have a bright future if he carries on at this pace.
We wrapped up with 6 person action as our 3 youngest competitors took the stage in the main event spotlight. Ellie and Layla teamed up with the Chosen One Will Starr to take on the team of the Trailer Park Messiah Alex Conners and his cousin Crystal as they joined forces with The Machine Emma Cross. A lot was riding on this as Layla and Ellie are two of Will's biggest fans and it was the chance of a lifetime to team up with their hero to take on one of the most hated personalities in CPW, along with someone unfortunately related to him in Crystal and the CPW Superfan who went turncoat on Fifi and in turn the fans in Emma Cross.
The girls all showed off what they've learned, with locking up combined with some joint manipulation moves. These moves are very effective when applied correctly and can wear down body parts quickly. After this the girls tagged out to Will Starr and Alex Conners and what followed was nothing short of a classic between these two. A masterclass of both of their abilities, I would say a standard performance from Will, but nothing is just standard with Will. It ended with the girls back in the ring after Will struggled for a while to get back to tag out to break the momentum. Ellie and Layla charged in after the tag and cleared house, taking out Emma and Crystal with a pair of DDTs to get the pin as Will stayed there to make sure that Alex didn't try and interfere.
The Star Squad were victorious in a wonderful way to wrap up part one of this two part series. Alex jumped in and made his feelings known as he lost out to Will Starr and his team, yelling at Crystal, but Crystal kicked Alex in the gut and hit him with a Stunner. Will raised his arm and pointed to his elbow as the girls positioned him so Will could drop the big Super Starr Elbow right into the shrivelled heart of the Hillbilly Bad Boy. Emma was long gone at this point but Crystal saw sense and joined the side of the Star Squad. Fifi came out with a few of the other Superstars and we all celebrated in the ring and gave our shout outs to all the people responsible who helped so much in preparation for this show. Will gave his final thoughts, thanked the crowd and signed off the show.
This was a great show and a fantastic display showing that once again we have proved out detractors wrong and managed to train people to put on a wrestling match in the space of 10 weeks. This is the 3rd time we have shown this and next week we will do it all again. It's been fantastic and the hits keep on coming.
For now, Frankie Summers is signing off, we will see you at the Hagard centre for Part 2!