7th September 2018
FRANKIE SUMMERS – Blog #7.5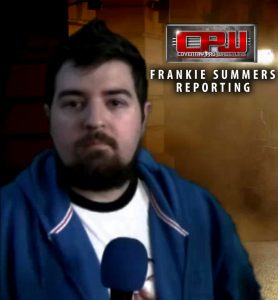 Beerfoam Aftermath
So since the events of the Morris show as I will call it, there has been some conflict. On social media I have observed the gripes of some of the in and out of ring talent, regarding the current situation with the championships, match decisions and a boat load of other things.
So I am here to give my opinion about the championship situations. Mainly that since Marcel has been fired as GM, the NextGen Wrestling scene has been awfully quiet, which has given us 2 champions holding onto those belts without defending them. I will give credit to Sir Fancypants for actually putting his on the line, and competing, even if it's not his show.
Marcel in particular has been shooting his mouth off about this, and even the Chicken Club are getting involved. Wes of the CC said that Stevie deserves a crack at George, even if it's non-title. Marcel mentions Bashby deserving a return match, and need I myself remind you about Bob Bashby? Marcel seems to agree with me on that one, Bob has been granted Number 1 contendership since Road to History I may remind you all also Morris has been competing outside the Academy ranks too, sure it was only one match, but it was a clear pinfall win against Dan Evans, who always ranks high in the singles ranks here in CPW, for any title contention.
Personally I think that one suggestion that was given for all of this may be a good idea. Maybe making some kind of multi man match to finally sort this out, but personally I feel that if it's for Number 1 contendership, Bob Bashby should be removed from the equation as he has already earned that accolade and has earned a shot at George to get that championship, regardless of what kind of mismatch it seems. Then we have Stevie, Bashby and Morris who are leftover. Not to mention Shaun Ruben who is young, and I feel deserves a shot at the belt. He has more than earned it, and has only lost once in singles action since coming to CPW.
Marcel said Alex Conners should be considered too, but newsflash, Alex doesn't qualify for the Academy division. He's been competing in the both flagship title divisions and has main evented a show before, and chances are he will again and very soon with the run he has been on. I feel it's time that we sort out once and for all who deserves to hold that championship. Be it a triple threat, a multiman, or a match and the winners of each face each other for that title, then that's how it may have to be. One day even I may be thrown into that mix, but for now Bob has a title shot he's not been granted and we have 4 who at least deserve to have a chance to fight for contendership. Let's find an undisputed academy champion.
Next is what Drake Wynter has been saying, he's been awfully abrasive since entering CPW, especially on social media. He's mouthed off at Dominic on his debut, and since then denies that he was beaten by Will Starr at the Morris show. He claims he wasn't pinned, he just couldn't get up. Since this win, Will has been granted another shot in a standard match against Isaac Quentin III at Summerfest 3 which does have the potential to be a show stealer. The rematch we all want to see, as now there will be no excuses. Last time we saw Isaac was at the Henley Green fun day, beating Stevie W in quick fashion. Will has been wanting to get his hands on Isaac again since, but he has said he wants the CPW belt. But if Will wins and takes the belt back from him, then would be he allowed to even contend for the CPW championship? Going further into what I said in Blog #7 and earlier, we have lots of viable candidates for Mr Richards CPW championship. Beast wants it, Morris wants a shot at it, so does Will. Tom Lindsay is in line for a rematch, Danny O'Neil is the golden ticket holder. That's 5 people in contention.
Beast will fight for a title shot at Episode 1 of Season 6, against Morris and Fifi, to see if Beast will face Mr Richards. But if Morris wants a shot, he may ask the match to be made Triple Threat so he gets a chance if he wins, but if that's the case, Fifi should get a shot from winning too. Where does Will fit into this, will he have to fight for contendership, or be awarded a shot for his effort? Will he have to face Tom Lindsay for the honour?
Will anyone in this picture face him? Also when will Danny O'Neil strike and cash in that Golden Ticket? He's still got a while as he only won the belt at Adrenaline, which with everything that has happened since feels a lifetime has passed. Or will it be that Mr Richards throws down and proclaims he will take them all on? It's going to be fun to see it all pan out.
The triple threat belt needs to be brought up as well as Anthony Mafia won it back in March from Tom Lindsay, and has only defended it once, mainly thanks to his success with Leyton Simms in the tag division, winning a gauntlet and a position in the match at History where they got pinned first, much to their annoyance by the Rainbow Boys. So when will it next be defended and who against? Triple Threat matches have been happening less and less this year, and noone seems to mention the belt anymore. This needs to change. I'm not saying that Anthony hasn't been a fighting champ. He's just not defended the belt as he's been pre-occupied with other things going on.
Speaking of the gauntlet, the tag titles seem to be in safe hands with the Merseyside Murder Squad, not that I'd like to call them safe. They have the belts and will be extremely tough to beat, as they are two very experienced and well travelled wrestlers, who aren't afraid to just punish their opponents and do anything to beat them, even if it involves breaking them down, berating them or flatout rule breaking. Winning is all that matters to them, but that's the mark of great champions. They're going to be around for a while I'm sure. Also, the women's title. Who will face Natalie Wild next? My guess is Millie will come back for her shot at the belt as she beat Athena Furie in very impressive fashion, and Shauna was beaten by Natalie at History, so it stands to reason these two will clash later on down the line.
Lastly we have that Next Gen championship. Currently held by Isaac Quentin III. Will is the only person in line for the title unless Danny O'Neil decides to cash in and try his luck, as Isaac did himself at Supershow to win against Will, after he beat Seth Skyline in a tough match, that ended in Seth blindsiding Will and knocking him out, which lead to Sir Fancypants picking his spot to come along and steal the belt. It's a clever way to do it, but lacks any real sportsmanship, but let's be fair, most people would take a free shot at glory like that given half a chance. This war has been going on since March between these two and noone else has come close to beating Isaac as Will did. He is the only person to get a 3 count on Isaac, even if he didn't win. It was best 2 out of 3 falls but 1 went to Will, which is closer than anyone else has come.
So I don't know how any of this will help anything, it's just pointing out the biases around some titles and how some seem to have been put by the way side when all should be treated with respect. Also some champions should actually defend them now and again. I understand that booking issues are a problem and now that we don't have a General Manager for Next Gen, and because of that, the whole brand has been rather quiet, and we will need something in season 6 to change that…I wonder who they will bring in?
This is Frankie Summers signing off.