12th February 2019
ELIMINATION 2019 is almost here….
The biggest show of 2019 is just around the corner as the CPW Primetime Wrestling and NextGen Wrestling stars come together for a HUGE night of family entertainment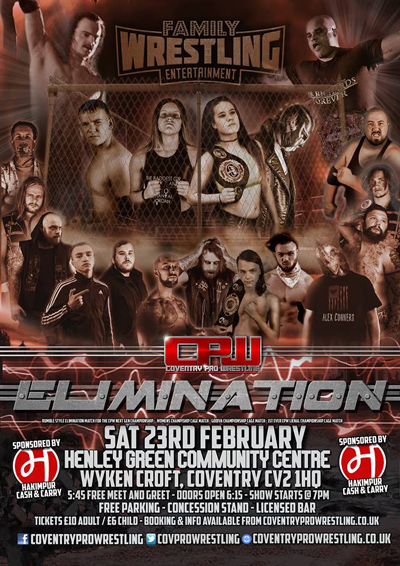 For the first time ever the CPW Prison will be utilised as 3 blockbuster matches will take place inside the structure including:
Mr Richards vs Will Starr for the CPW Unified Heavyweight Championships
Chantal Jordan vs Victoria Adams in the QOTG Quarter Finals
Morris vs Imperial Dragon for the CPW Godiva Championships
Also witness the annual Elimination Match where CPW Stars compete for the right to face the NextGen Wrestling Champion at History 6 and there is more as Nightshade returns to CPW to face Natalie Wild whilst the Merseyside Murder Squad will also feature LIVE!!!
ELIMINATION 2019 SCHEDULE
5.30pm – FREE Meet & Greet
6.15pm Show Doors
For ticket information visit: www.bookwhen.com/axemanpromotions